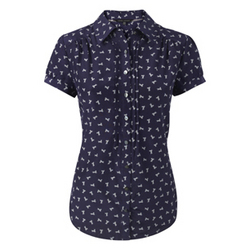 London, UK (PRWEB) October 8, 2010
We all know that dogs are man's best friend, but this season, it's women who will be thanking these four-legged creatures for giving them a quirky yet classic edge in the style stakes.
The Laura Ashley AW10 collection contains several pieces, including a blouse and cardigan, all in a chic shade of mulberry and featuring an all-over dog print which is perfectly on trend and in keeping with this season's passion for bird and beast influences, but in a way that is far sweeter and more subtle than the ubiquitous animal print and faux-fur.
And as if the print itself, taken from the Laura Ashley archives, wasn't adorable enough - the dog it depicts is based on Clem, the beloved hound of Nick Ashley, who was the third of Laura Ashley's four children. First appearing in a nursery range when Nick was working as Design Director for the business, the dog was seen on a wallpaper border called 'Clem' in 1988 and then again, in 1990, on a wallpaper called 'Puppy Dog Clem'.
From children's bedrooms to oh-so-now style statement - not only is this proof that Clem was one talented, versatile dog but it also exemplifies the way that Laura Ashley, a company that boasts a long history and a rich heritage, is so adept at redefining its past to make it utterly relevant, accessible and above all, desirable, to the present day.
The Square Neck Dog Print top will lend your weekend ensemble an eclectic yet sophisticated touch, setting it above the standard issue 'jeans and top' outfit that is such a common fallback as the season changes - fabulously simple yet with an air of fun that's often neglected as summer ends. For a more polished look, the same print appears on a silk mix blouse, which features slightly puffed sleeves and pintucking - ideal for the office or smarter daywear - while the dog print cardigan's half sleeves and 50s shape perfectly combine fun and function.
Meanwhile, those wanting a lighter approach to the animal motif trend are catered for with a long, narrow scarf to be worn around the neck, head, as a belt or even adorning a handbag strap.
No matter how you choose to wear it, Laura Ashley's lovable dog print will put a wag in the tail of your AW wardrobe. Clem would be proud.
For more information please contact:
Laura Ashley PR Team
0207 880 5100
About Laura Ashley
Laura Ashley is one of the UK's leading retailers, with over 225 stores in the UK and Republic of Ireland, plus an expanding international business offering stylish, high quality, great value women's clothing and home furnishings. In the last financial year Laura Ashley sales were £268.4 million.
As a much-loved British heritage brand Laura Ashley founded in 1953 provides a source of design-led items, good-quality yet accessible fabrics, wallpaper, furniture, lighting and home accessories and women's fashion.
The company also offers an excellent level of services including an array of bespoke options for the home, including made to order upholstery in a choice of over 100 fabric options, made to measure curtains & blinds and a comprehensive Design service.
Laura Ashley has growing franchise operations all over the world, including the Far East, Australia, Scandinavia and South America, as well as increasing numbers of licensing projects for products including carpets, eyewear, scarves and bedlinen.
In addition to an increasing portfolio of store Laura Ashley also offers a mail order service and internet sales at http://www.lauraashley.com.
###