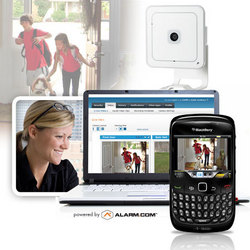 Vienna, VA (PRWEB) October 14, 2010
With the school year kicking into full gear, parents are in search of creative new ways to ensure their children's safety when they return home after school. Working parents in particular wonder, "What are my kids up to when I'm not around?" Did they get home on time? Are they doing their homework, or playing video games? Did they turn off all the lights if they left the house?
The good news for parents with daily work obligations and other commitments is the availability of innovative, easy-to-use and affordable home security systems and monitoring technologies to keep track of kids remotely when parents are not around. Below are 10 tech tips for you to safeguard your kids when they are home alone after school:
1. Install a security system integrated with remote monitoring technology.
Not every activity that happens at home when you are not around requires police or fire response—but that doesn't mean you wouldn't want to know about them. Use strategically placed motion-triggered sensors in your home to find out when the kids get home from school, the housekeeper or contractor arrives or leaves, if the liquor or medicine cabinet is opened, and more.
2. Utilize cameras (connected to your security system) to look in at any time.
Using IP security cameras integrated with advanced interactive technology will truly change the way you'll see your home. Security cameras and video monitoring technology give you the ability to view live streaming video, receive motion-triggered video clips and control cameras remotely from your smartphone (iPhone, BlackBerry, Android) or computer.
3. Take security with you.
You are asking for mobile phones to do more, and home security and monitoring providers have responded. Check with your security provider about the availability of free mobile home security apps that let you easily monitor and control your security system while you're on the go. Whether it's an iPhone app, BlackBerry app or Android app, you can check current system status, see recent events, view live video and update your security system settings from anywhere, at any time.
4. Don't rely on the phone line or Internet to power your system.
Many security systems today unfortunately still depend on unreliable telephone lines that can easily be cut by a burglar, or internet that can go down at any time. Try to find a security system that works on a wireless network, such as GSM. By using a wireless home security system, a signal can be sent to the central monitoring station faster and more efficiently for an immediate emergency response.
5. Set up real-time notifications via email or text message.
Choose a security system that offers real-time email and text message notifications to be sent to you about events that matter most so you are always in the know.
6. Have more insight and control with home automation.
Home energy management systems will give you the ability to make smarter energy decisions more conveniently, so you can stay up-to-date on what's happening at home when you are not there. With these home automation solutions, you can, from your computer or mobile phone, remotely monitor and control temperature, lights and door locks.
7. Set up schedules and automatic reminders for your security system.
Today's home security systems don't just allow you to set customized alerts when an activity does occur, but also when an expected event does not occur. You can now set up "no-show" alerts so that if a child does not arrive home from school within the expected time window you will receive an instant notification.
8. Be prepared and stay protected.
Seek security systems that provide a higher level of protection. The best protection ensures that even if an intruder enters a home and quickly smashes your security control panel, a signal will still be sent to the central monitoring station for help.
9. Manage all security system users.
It's not just the head of the household that's arming and disarming your home security system. What about the babysitter, the contractor, a cleaning crew or a pet sitter? Make sure to use a security system that allows you to set up multiple users and customize settings for each one.
10. Regularly review event/activity history.
It's important to install a security system that allows you to have remote monitoring and system control with interactive services and also makes sure you can view and save your event history. Why? To ensure your family's safety, you should regularly access a searchable security event history and look for any unusual patterns. This will also allow you to look back at that history in case of a security breach and pull any information you may want or need to report to authorities.
About Alarm.com
Alarm.com Incorporated provides wireless and web-enabled security and activity monitoring technology to hundreds of thousands of residential and commercial customers throughout the United States and Canada. Alarm.com products and services are offered exclusively through a network of over 1,400 licensed and authorized Security Dealers. The company is headquartered in Tysons Corner, VA, just outside of Washington, DC. For more information, visit http://www.alarm.com.
# # #