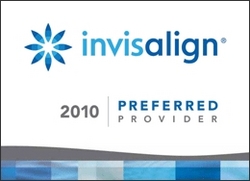 Washington, DC (Vocus) October 6, 2010
Michelle Janbakhsh DDS of National Integrated Health Associates (NIHA) recently earned the Invisalign Preferred Provider designation. This provider status is reached after a specific level of Invisalign cases and training has been achieved. Invisalign is the clear, removable method of straightening teeth without wires and brackets.
The Invisalign Preferred Provider status is a national recognition. Doctors must achieve a specific level of case experience and training with Invisalign products to receive the designation. With this designation, Dr. Janbakhsh will be listed on the Invisalign website as a Preferred Provider.
Invisalign is an advanced orthodontic technology that offers unique benefits to the patient. The series of almost invisible, removable aligners move teeth into place incrementally according to the treatment plan. Using advanced 3D computer imaging technology, Invisalign depicts the complete treatment plan from the initial position of the teeth to the final desired position incrementally using a number of aesthetic and removable aligners. The clear braces are barely noticeable and easily removed for eating and brushing teeth, and will work for crowded teeth, spaced teeth, under bite, overbite and many orthodontic conditions.
Dr. Michelle Janbakhsh, known as Dr. Jan to her patients, recommends Invisalign for many adult patients because they are more comfortable and less noticeable than traditional metal braces. Also, the aligners are made of a thermoplastic material that does not contain Bisphenol-A or phthalate plasticizers. Tests have shown that they are bio-compatible and pass all requirements for human use.
Dr. Jan's philosophy is that dental health relates to the overall health of the body. She educates patients on the importance of maintaining oral health and often writes dental articles for NIHA'S Integrative Health blog. She believes that a healthy beautiful smile can be a prelude to total wellness.
About Dr. Janbakhsh
Dr. Michelle Janbakhsh has been in family dental practice for 10 years in the years in the Washington DC, Virginia and Maryland metropolitan area. She has special interest in holistic family dentistry and cosmetic dentistry at National Integrated Health Associates (NIHA), an integrative medicine and dental center. She offers a free Invisalign consultation.
Located in Washington, D.C., NIHA was founded in 1995 as one of the first integrative medical and dental centers of its kind. The integrative medicine model treats the whole person and considers factors such as nutrition, lifestyle and good dental health to be important in the management of overall health. NIHA is located directly across the street from the red line of the Friendship Heights Metro station, and has convenient underground parking. More information can be found on http://www.nihadc.com.
###