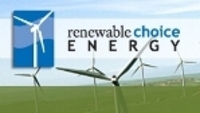 The Griffis Group's increased commitment to renewable energy development continues to differentiate them as an industry leader
Denver, CO (Vocus) October 6, 2010
Griffis Group, a Denver-based real estate investor, today announced it is increasing its commitment to reduce the carbon footprint of its nine Class-A luxury apartment communities by purchasing 11,859,412 kilowatt hours of renewable energy credits (RECs) this year from Boulder, CO-based Renewable Choice Energy. This purchase is a 40 percent increase over last year's commitment.
This Griffis Group commitment will offset 100 percent of its apartment unit's electricity use across its 2,290 apartment units in nine Colorado communities this year. This will help save over 13 million pounds of carbon dioxide pollution and have an impact similar to planting more than 54 thousand mature trees or helping to avoid a similar amount of CO2 emissions produced by the electricity use of 782 average American homes.
The Griffis Group is working to differentiate its communities by continuing and increasing its support for renewable energy and by educating its residents on its importance. By ensuring that electricity equivalent to 100 percent of what the apartment unit's use is put back onto the grid from wind power sources, the Griffis Group is demonstrating its renewed allegiance to helping generate clean energy.
"Our community's electrical use continues to be one of the largest contributors to our environmental impact. And since we have a choice and the ability to make a difference by supporting clean energy development, we are committed to reducing our environmental impact by purchasing renewable energy credits," explains Katie Moon, Project Manager for Griffis Group.
Over the last several years, the Griffis Group has made great strides to make its apartment communities as environmentally friendly as possible. The Griffis Group is focused on helping its residents be greener by setting an example at the corporate level. When choosing to live at one of its nine communities, residents are affiliating themselves with an eco-minded organization and their environmental footprint is reduced as part of the company-wide commitment.
"The Griffis Group's increased commitment to renewable energy development continues to differentiate them as an industry leader," said Quayle Hodek, CEO of Renewable Choice Energy. "By offsetting 100 percent of its unit's electricity use, Griffis Group is supporting clean energy development and demonstrating how businesses can contribute to changing how our electricity is generated."
The communities, located in Colorado Springs, Denver, Aurora, and Boulder, Colorado, have incorporated eco-friendly practices across its communities in addition to offering luxury amenities from resort style pools and spas to 24 hour fitness centers and state of the art business centers. These green practices include on-site single stream recycling, energy-efficient lighting and appliances, on-site recycling for CFLs, water conservation efforts in landscaping and use of green materials like Shaw Green Certified carpet, recycled glass backsplashes and non-VOC (volatile organic compound) paint in renovations. Additionally, Griffis Group has recently installed a solar system at The Boulders community in Boulder which is designed to produce enough electricity to offset that community's common area electrical consumption.
How Renewable Energy Credit (RECs) Work
Renewable energy facilities generate renewable energy credits (RECs) when they produce electricity. Purchasing these credits is the widely accepted way to address the environmental footprint of your electricity consumption. Purchasing RECs at the same quantity as your electricity consumption guarantees that the energy you use is added to the power grid from a renewable energy facility and supports the further development of these facilities. Renewable Choice RECs are third-party certified by Green-e Energy. More at http://www.renewablechoice.com/business-about-renewable-energy.html
About Griffis Group
Based in Denver, Griffis Group and its affiliates have been investing in apartment communities for 24 years. The Griffis Group offers conservative low leverage investments with strong upside potential and cash flow. Diversified funds have delivered above market returns for over two decades. Please visit http://www.griffisgroup.com for more details. For information on their 9 luxury apartment communities, please visit http://www.LiveHereColorado.com.
About Renewable Choice Energy
Renewable Choice Energy is a leading national provider of greenhouse gas measurement services, energy efficiency solutions, renewable energy credits (RECs) and carbon offsets to hundreds of Fortune 500 Companies and small businesses, thousands of residential customers, and over 1000 LEED green building projects in the U.S. Founded in 2001, Boulder-Colo.-based Renewable Choice and its clients have received prestigious awards from the EPA and DOE for supporting and expanding the renewable energy market and have been featured in hundreds of media outlets including The New York Times, Wall Street Journal, CNN, USA TODAY, and more. http://www.renewablechoice.com
###