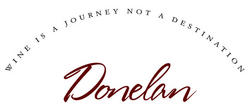 Our decision to give part of our sales to United Against Sexual Assault of Sonoma County was because it allows our winery to become better and more active participants in the Santa Rosa community
Santa Rosa, CA (PRWEB) October 6, 2010
One doesn't usually think of fine winery owners donating part of their sales to abuse crisis centers, but that is exactly what Joe Donelan, owner of Donelan Family Wines, has just announced he will do. For the next two months, 10% of his wine sales will benefit United Against Sexual Assault of Sonoma County (UASA), a non-profit organization based in Santa Rosa, California.
In 2000, Joe Donelan founded Pax Wine Cellars, recently renamed Donelan Family Wines. This boutique winery focuses on Syrah and other Rhône varietals harvested from select vineyards within Sonoma County, California. An understanding of the soil and microclimates of these unique northern California vineyards, along with no small measure of patience and passion, enable Donelan and his winemaker Tyler Thomas to produce critically-acclaimed wines from the only the-best-of-the-best fruit.
Yet he's also passionate about philanthropy. In 2000, he donated $1.2 million to his alma mater, the College of the Holy Cross in Worcester, Massachusetts, to establish The Donelan Office of Community-Based Learning. Donelan believes education is key and the best learning is interdisciplinary, involving a hands-on approach.
Recently, Joe wanted to help the community of Sonoma County where Donelan Family Wines harvests their grapes and makes their wine. He decided to lend his support to UASA, which offers counseling and advocacy services to those whose lives have been impacted by sexual violence and trauma both face-to-face and through its 24/7 hotline. UASA also strives to prevent violence through its extensive educational programs for adults, teens, and children.
"My other passions other than wine are my family and community," said Joe Donelan, owner and founder of Donelan Family Wines. "Our decision to give part of our sales to United Against Sexual Assault of Sonoma County was because it allows our winery to become better and more active participants in the Santa Rosa community while helping take care of those whose families have been torn apart by abuse and need the help of an 'extended' family."
Christine Castillo, executive director of UASA, was elated upon receiving the call from Donelan Family Wines in which he offered his support. "You have no idea what it was like, in these difficult financial times, to receive this call learning that a community member not only wants to make a difference, but understands the need and the impact his funding will have on our work. Mr. Donelan's support will be focused on our Prevention/Education programs which reach more than 5,000 youth each year through the variety of programs offered in this department. It may sound a bit "cliché" but this call was like manna from heaven and the Donelan Family have left their mark on UASA and our Sonoma County community through their generosity. I am absolutely overjoyed with this gift!"
Beginning with the Fall Release on October 4, 2010 and continuing for two months, Donelan Family Wines will donate 10% of all its wine sales to UASA. Joe hopes that those buying his wines during this period will not only enjoy their subtle complexity and lingering finish but also rejoice in being able to contribute to a fine cause.
About Donelan Family Wines
Donelan Family Wines sources fruit from select growers within Sonoma County, California. The family owned business focuses on producing inimitable, delicious wines from Syrah and Rhône varietals. To learn where and how Donelan Family Wines produces its passion, visit http://www.donelanwines.com.
About United Against Sexual Assault of Sonoma County
UASA promotes social justice and equality for all women, men and children who have been sexually assaulted. We are committed to ending sexual violence by working to eliminate those conditions that cause or tolerate it. We recognize that the process of ending violence in our community involves a partnership of individuals, groups and institutions. We are an active partner in that effort as a member of the community. For more information about UASA please contact Ms. Alexis Marbach via email at alexismarbach(at)gmail(dot)com.
# # #