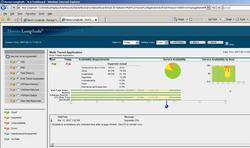 Virtualization has necessitated a new approach to monitoring application performance
Braintree, Mass. (PRWEB) October 6, 2010
Heroix, a leading provider of application performance and network monitoring software, today announced a new version of its flagship agentless IT monitoring software, Longitude V6.3. Designed to help IT organizations maximize business service levels in physical and virtualized environments, Longitude monitors performance across traditional IT silos to provide a cohesive picture of IT service delivery and Service Level Agreement (SLA) compliance.
Central to Longitude V6.3 is expanded monitoring of VMware virtualized environments, including monitoring support for VCenter 4 and VMotion as well as ESX Server 3.5 and 4. Longitude monitors key VMware performance indicators associated with hosts, virtual machines, clusters, datastores, resource pools, and data centers, and alerts IT staff to potential issues with guests or hosts. These built-in VMware monitors work in conjunction with Longitude's end user experience and service level agreement (SLA) monitoring to give IT organizations the accurate performance data needed to assess and assure service levels in virtualized environments.
"Virtualization has necessitated a new approach to monitoring application performance," said Heroix VP of Product Development, Dick Levin. "In a virtualized environment, there is no longer a one-to-one correspondence between an operating system instance and a physical server. Longitude integrates user response measurements, VMware metrics, and critical data from across the entire infrastructure in a single pane of glass using SLAs. This ensures that IT personnel are notified of issues that matter to the performance of virtualized applications. Furthermore, Longitude adds value over native VMware monitoring with more granular threshold and action setting, scheduled report generation and flexible report distribution via email or publication to a portal."
Longitude V6.3 provides an integrated approach to monitoring VMware in the larger context of the physical and virtual environment:

Automatically collects key physical and virtual performance metrics for VMware guests, hosts, resource pools, clusters, datastores, and datacenters.
Consolidates alarms generated by VMware with events from other sources, for unified alerting and reporting.
Alerts IT staff to potential performance or availability problems with guests, hosts, or any VMware-related entities, and optionally takes corrective action.
Generates comprehensive reports to show physical and virtual utilization.
Correlates VMware indicators and infrastructure issues with end user response metrics for the most accurate assessment of application performance.
Supports flexible policy-based actions that can be taken at any level of granularity - for a full class of problems, a specific individual problem, by schedule, or by severity. Actions include events, email, phone, SMS paging, SNMP traps, and OS commands for script execution or corrective action.
Provides granularity and flexibility in setting thresholds globally, or for groups or individual physical or virtual components; and speeds threshold tailoring by supplying minimum, maximum, and average workload values.
Additional new and enhanced features in Longitude V6.3 include:
Enhanced auto-discovery for immediate deployment and ROI – identifies Windows, Unix, Linux, and network devices based on an IP address range
Built-in network traffic reporting via NetFlow – identifies top bandwidth users, detects potential threats, and helps distinguish between authorized and undesirable network usage
Expanded monitoring for Cisco and other network devices
Expanded Oracle monitoring and reporting
Advanced event tracking, including the ability to acknowledge events
Pricing and Availability
Longitude V6.3 is available now, and Heroix offers a 14 day free trial of Heroix Longitude. Please visit http://www.heroix.com or call 800-229-6500 or 781-848-1701 for Longitude pricing.
More Resources
Compare features and download Heroix Longitude
Watch Longitude Quick Tour (5-minute video)
About Heroix
Heroix (http://www.heroix.com) delivers award-winning software products that help organizations optimize the availability and performance of applications, databases, systems, and IT infrastructure running across multiple platforms. Today, with a presence in over 40 countries, Heroix has delivered performance management solutions to over 1,000 organizations worldwide, including Fallon Clinic, Kaiser Permanente, Honeywell, Tembec, Motorola, Inc., and Young Broadcasting.
Heroix, Heroix Longitude, and their corresponding logos are registered trademarks of Heroix. All other company and product names mentioned are used only for identification purposes and may be trademarks or registered trademarks of their respective companies.
###