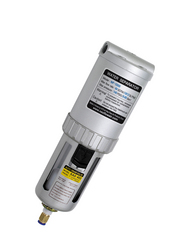 Buffalo, NY (PRWEB) October 14, 2010
The Nex Flow™ X-Stream™ Liquid Super Separator uses a world patent pending special radial nozzle centrifugal design to remove 99.9% of liquid mist (including water and oil mist) without the need of a replaceable filter element. Standard sizes are 9, 22, and 64 SCFM.
Unlike large upstream separators, these units are designed to be used upstream from an air gun, blow-off product or any device using compressed air and may be used in place of a standard air filter. If micron size is a concern, you can still use a standard water or oil filter but the replaceable cartridge life will be dramatically extended as the X-Stream™ Liquid Super Separator will remove the vast majority of the liquids and mist.
Units come complete with an automatic drain, have extremely minimal pressure loss and are virtually maintenance free. (Only the automatic drain may be subject to wear and tear and is easily replaced.)
Contact:
Nex Flow Air Products Corp.
10520 Yonge Street, Unit 35B-220
Richmond Hill, ON, L4C 3C7
USA and Canada: +1-877-797-2777
International: +1-416-410-1313
FAX: +1-416-410-1806
sales(at)nexflowair(dot)com
http://www.nexflowair.com
###