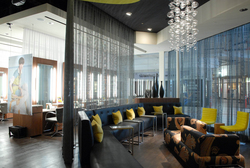 "It is a pleasure to be in a position to give back to the region by adding employment opportunities and to provide our staff with a vibrant place to work!" says Janet Denyer, CEO of Gene Juarez
Seattle, WA (PRWEB) October 7, 2010
Approaching its 40th year in business in 2011, Gene Juarez Salons & Spas is proud to announce that it is experiencing continued growth and creating new jobs in the Puget Sound region. All while continuing to bring the best in beauty and well-being services to hundreds of thousands of residents. Of special note is the launch of the newest and 10th Gene Juarez Salon in Kitsap's Silverdale Mall, which is slated to open in early November this year and, alone, bring 32 job positions to the region!
In 2008, Gene Juarez added the newest flagship to its collection of highly regarded salons and spas to the popular University Village. That salon's opening added 65 positions in the last two years and has grown to become one of the most aspirational and successful salon/spas in the Gene Juarez collection. In 2009, the southernmost location in Puyallup's South Hill Mall moved and expanded due to the significant success of the original location and repeated requests from guests to add the spa and more hair services to its repertoire. The location grew into over 2 times the space, adding a full array of skin care, massage, nail care, waxing and make-up services, and expanded hair design and color in a beautifully appointed, warm and inviting space. The location has become the jewel of the South Hill Mall and receives significantly positive reception since re-opening in June of last year. The location increased its workforce by 18 people since reopening in June last year.
This year, Gene Juarez further announces the addition of another new location in the Kitsap Peninsula's Silverdale Mall in order to bring beauty services to those who would otherwise have to drive or ferry a good distance to enjoy the Gene Juarez experience. The location will start as a 3,000 square foot salon with Gene Juarez's signature expertise in hair design, hair color and make-up and also provide a limited menu of spa services including waxing and skincare. The location is slated to provide 32 new positions including hair designers and colorists, skincare therapists, make-up artists, guest service representatives, management and support personnel. Gene Juarez is currently accepting applications and interviewing to fill these positions. Interested parties can get information for employment at this beautiful new location at http://www.genejuarez.com.
The company is also experiencing organic growth in its nine current locations around the Puget Sound, its two Academies and Advanced Training Salon as well as in its Corporate home office. The result is a robust plan to hire and place 30 new personnel by the end of 2010 as well as add approximately 64 more during 2011 to support its growth plan. The result of this healthy growth plan is a need for Gene Juarez to significantly expand capacity and space at its industry-leading and highly regarded artist education facility, the Advanced Training Salon, which will be done during the balance of 2010.
"We are very proud of the growth we are experiencing and planning," says Janet Denyer, CEO of Gene Juarez. "The continued support that the residents of the region give Gene Juarez as our wonderful and loyal guests not only buoys our ability to provide expert services at reasonable prices in a beautiful environment, but also to build new salons and spas, and to bring first class education to cosmetology students. It is a pleasure to be in a position to give back to the region by adding employment opportunities and to provide our staff with a vibrant place to work!"
About Gene Juarez Salons and Spas
Since 1971 Gene Juarez Salons & Spas has been the definitive authority on hair, beauty and wellness in the Pacific Northwest. The company's extensive training program and attentive guest service have earned the salon numerous honors including "Seattle's Best Hair Salon" by Seattle magazine readers, Modern Salon magazine's "Salon of the Year," Self magazine's "Top Day Spas," King 5 TV's "Best Hair Salon & Spa Escape," InStyle magazine's "Top Spas in the United States," and Citysearch Seattle's "Best Day Spa." To learn more about Gene Juarez Salons & Spas, visit one of the company's ten locations, including downtown Seattle, Bellevue, Alderwood, Tacoma, Southcenter, Redmond, Northgate, South Hill, University Village and, as of November, 2010, Silverdale. Gene Juarez also operates the Gene Juarez Academy at two locations and the Advanced Training Salon. http://www.genejuarez.com.
For additional information about this topic, or to schedule an interview, please contact Alyson Andrews by phone at 435.748.1491 or by email at alysona(at)genejuarez(dot)com. Fan us on Facebook and follow us on Twitter.
# # #