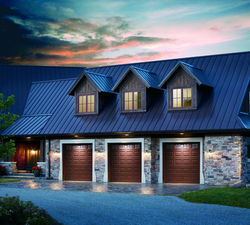 Mason, OH (PRWEB) October 6, 2010
Homeowners have until the end of the year to take advantage of up to $1,500 in federal tax credits worth 30% of the cost of qualifying energy-efficient upgrades to heating and air conditioning units, water heaters, insulation, roofing, windows, entry doors and garage doors.
"October is Energy Awareness Month and a good marker to remind homeowners that they only have about 90 days left to purchase and install qualifying products to meet the December 31, 2010 deadline," says Pat Lohse, vice president of residential marketing for Clopay Building Products, the nation's leading manufacturer of residential garage doors.
Replacing an older garage door with a new, energy efficient model can reduce energy loss through the garage by up to 71%, according to a comparison study conducted by Clopay engineers.
"Since attached garages typically share one or two common walls with the house, any hot or cold that travels through a door will ultimately affect the adjacent living areas," says Mark Westerfield P.E., Director of Product Development for Clopay. "An insulated garage door can help stabilize temperatures in the garage to reduce heat losses or gains."
Depending on the specifics of the home, a well insulated door can help keep an unheated garage 10 to 20 degrees warmer on a cold winter day. "That can have a significant impact on the comfort of family rooms or bedrooms located above or next to the garage," adds Westerfield.
Garage doors must meet the following criteria to qualify:
– The door must be an insulated residential garage door installed by December 31, 2010.
– The door must have a U-factor equal to or less than 0.30, and there must be a means to control air filtration at the door perimeter.
– The door must be expected to remain in service for at least five years.
– The garage must be an insulated space and part of the taxpayer's principal U.S. residence.
A tax credit is more valuable than a tax deduction because it reduces the actual tax paid, dollar-for-dollar, while a deduction only decreases the amount of income that is taxed.
Professional garage door dealers should provide a manufacturer's certification statement for all qualified insulated garage doors at the time of installation. Homeowners do not need to submit a copy with their tax return, but should keep a copy for their records.
Visit the Clopay Energy Efficient Garage Doors page or call 800-225-6729 for more information.
With three manufacturing facilities and 50 distribution centers across the U.S. and Canada, Clopay Building Products is North America's leading manufacturer of residential garage doors and a preferred supplier in the commercial industrial door market. Bringing more than 40 years of experience and innovation to the garage door industry, Clopay Building Products maintains a strong family of brands including Clopay®, Holmes Garage Door Company® and Ideal Door®. Since 1996, Clopay is the only garage door manufacturer to earn the Good Housekeeping Seal.
###