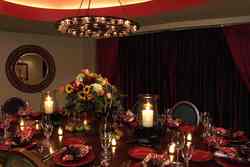 This gift is a true authentic Italian food experience filled with food, friends and family. It doesn't get any better than that!
Plano, TX (Vocus) October 6, 2010
With the holidays on the horizon, many shoppers are looking for the perfect gift for that impossible-to-buy-for person on their list. In response, two North Texas businesses have merged their services to create a unique, over-the-top dining experience filled with memories, and a leave behind gift, to last a lifetime. Nicola's Ristorante Italiano and Culinary Connection developed the $10,000 Decadent Dinner Party as the ultimate gift for the holiday season. This custom gathering comes complete with a gourmet four-course meal prepared on-site at a host's home (or a venue of his/her choosing) by Nicola's Chef Sascia Marchesi. There's also wine pairings, servers and table settings for 12. After finishing off the delicious meal, the hosts keep the place settings, which include beautiful tableware made in Tuscany by VEITRI and accent pieces by Dallas designer Jan Barboglio. The staff will even load the dishwasher before they leave making this an effortless affair.
"With all the stress of the holidays, who wouldn't love a labor-free dinner?," said Marchesi. "This gift is a true authentic Italian food experience filled with food, friends and family. It doesn't get any better than that!"
Added Pam Vincent, owner of Culinary Connection, "Sure, it's indulgent and extravagant, but for some people this will be more than just a gift, it will be a memory. And it will be something they can talk about every time they are enjoying the beautiful place settings they get to keep."
Created for up to 12 people, the $10,000 Decadent Dinner Party is the perfect gift for the hard to buy for or a standout way for businesses to entertain their best clients. The menu begins with Chef Marchesi in the host's kitchen (or venue's kitchen) creating an Antipasto of Carpaccio Di Mare, fresh Atlantic salmon with Chilean sea bass Carpaccio served with watercress, mango salad and a citrus-honey dressing. It's paired with a St. Supery Sauvignon Blanc. The Primi (First Course) is Ravioli D'Aragosta, handmade lobster ravioli served in its own bisque with Paddle Fish caviar. The wine is Tiefenbrunner, Pinot Grigio, Alto Adige. For Secondo ("Seconds" in English) it's Sella D'Agnello In Crusta Di Pistacchio, pistachio crusted lamb loin served with blueberry sauce, porcini mushroom potato mini cake and minted baby carrots, and paired with Il Bruciato "Tunuta Guado al Tasso," Bohlgeri. The meal wraps up with a Dolce (Dessert) of Crema Di Gelato Al Mango, cream of caramelized mango gelato served with a fruit medley and raspberry puree alongside Nicola's homemade coffee liquor. Chef Marchesi will prepare these dishes on site, and dinner guests will be waited on by Nicola's servers.
The $10,000 Decadent Dinner Party tableware consists of service for 12 including VIETRI oversized dinner plates, salad plates and pasta bowls. This elegant, yet microwave and dishwasher-safe, dinnerware is handmade and hand-painted with distinctive shapes, glazes and rustic edges and is available in 17 color choices to match any home. Hosts will also receive VIETRI serving pieces, flatware, linens and water glasses. The breathtaking table setting will be accented with chargers, napkin rings and centerpieces by Jan Barboglio. Pam Vincent, owner of Culinary Connection has hand selected the most beautiful items - made by many hands and hearts - to create a table setting and evening to remember.
For more details, or to book a $10,000 Decadent Dinner Party, please call Nicola's Ristorante Italiano at
(972) 608-4430 or the Culinary Connection at (972) 398-9009.
# # #