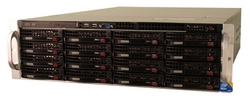 Addison, TX (PRWEB) October 6, 2010
Excel Meridian Data, an innovative provider of customized data storage solutions, today introduced its new NetStor WSS 8311 and NetStor WSS 8411 Network Attached Storage (NAS) products. Excel Meridian Data offers a full line of storage solutions including Network Attached Storage (NAS), Direct Attached Storage (DAS), and Storage Area Network (SAN) devices.
The NetStor WSS 8311 and NetStor WSS 8411 will replace the WSS 3U and 5U Quad-Core products respectively. The WSS 8311 (3U 16-bay) and 8411 (4U 24-bay) expand the scale of the Company's NAS product family by offering systems with increased internal storage capacity and native JBOD expansion capabilities. The WSS 8311 and 8411 are powered by the industry standard Windows Storage Server 2008 and offer a flexible and scalable NAS solution. In addition, both products offer iSCSI target functionality to allow SAN block-level storage access making the 8311 and 8411 a perfect choice for customers needing both NAS and iSCSI solutions. The units come standard with a one year advance replacement warranty and offer the ability to affordably scale the storage beyond the internal drive capacity.
"The NetStor WSS 8311 and 8411 address our customer's need for reliable and flexible data storage at an affordable price," said Ryan Roberts, Sales Manager of Excel Meridian Data. "These newly developed systems extend our NAS product offering, building upon our unique ability to customize solutions for any size customer."
About Excel Meridian Data
Excel Meridian Data, founded in 1992, is a Texas-based corporation that delivers quality customized data storage solutions to small and medium sized businesses through its personalized sales approach. Keeping conscious of tightening budgets throughout the IT landscape across all industries, Excel Meridian Data has identified and pioneered a customized value oriented approach by providing customized solutions to each customer. Primarily focusing on the education, government, defense, healthcare, security surveillance, and technology markets, the Company's products augment the data storage and backup capacity of an enterprises IT infrastructure. The Company offers Network Attached Storage (NAS), Direct Attached Storage (DAS), and Storage Area Network (SAN) products. Some customers include Lockhead Martin, General Dynamics, the US Navy, and numerous universities and K-12 institutions. For more information please visit http://www.emdstorage.com.
###