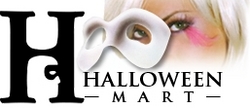 With 20% off at Halloween Mart, it's a great time to find a unique costume for a low price.
Las Vegas, NV (PRWEB) October 6, 2010
Halloween Mart (http://www.HalloweenMart.com), the Las Vegas based retailer of Halloween costumes and costume accessories, today announced that for a limited time customers can receive an additional 20% off any order by using offer code "PRESS" at checkout.
This discount applies to the entire inventory of thousands of Halloween costumes, decorations and accessories available at HalloweenMart.com. All categories of costumes are included, from adult Halloween costumes to kid's, sexy Halloween costumes and plus size.
"With the economy hit so hard this year, and with people having to cut back on so many things they normally wouldn't need to think about, we decided to make Halloween costume fun a little more affordable this year." Halloween Mart owner Carrie Sheerin said, "It's a great time to find a unique costume for a low price."
Established in 1994 as the first online Halloween costume retailer, Halloween Mart has always been at the forefront of the costume industry. "You always need to be in touch with the needs of your customers if you expect to be the best at what you do," Sheerin said. "While having the latest high quality costumes in stock has always been an obvious necessity, we found that this year our customers would benefit the most from a lower price point than you can find anywhere else. In addition, we wanted to reward our loyal customers with a discount on anything they want."
This special offer applies only to purchases made from HalloweenMart.com online store and cannot be combined with any other promotions or discounts. Promotion code "PRESS" will expire soon, so it is suggested to all customers who want to take advantage of the discount to shop as soon as possible. Promo codes cannot be applied retroactively to purchases made prior to the start of a sale or to purchases made after the end of a sale.
Halloween Mart predicts the following items to be amongst the most popular choices this Halloween, and quantities may become limited over time:
Adult Costumes
Lady Gaga
The Mad Hatter
Michael Jackson
Iron Man
Jersey Shore
Kiss
Children's Costumes
Toy Story Characters
Iron Man
Spiderman
Harry Potter
Mermaids
Halloween Mart is located at 6230 South Decatur Bl. In Las Vegas, NV or online at http://www.HalloweenMart.com Information is available through the website or by calling 1-800-811-4877.
###