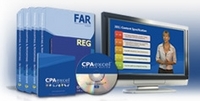 Sedona, AZ (Vocus) October 6, 2010
CPAexcel, the leading provider of online courses that prepare accountants to qualify to become Certified Public Accountants, is proud to announce the release of its 2011 CPA Review Courses.
By releasing its 2011 courses in early October, CPAexcel offers accountants adequate time to prepare for and pass one part of the new exam in early January, thereby getting a quick start on passing all four parts in 2011. Most other 2011 CPA review courses will not be released until November or even December.
In 2009, the American Institute of Certified Public Accountants (AICPA) completely revised the 2011 CPA Exam requirements. Consequently, CPAexcel's team of distinguished university professors and CPA Exam experts revised CPAexcel's course materials to meet these requirements, as well as to add features to make it even easier for CPAexcel students to pass the exam the first time.
CPAexcel for 2011 includes many valuable features not found in other CPA review courses, such as:

Efficient Learning System with Bite-sized lessons provides links from each lesson to all types of content as well as to other learning tools, e.g., Student Discussions and Professor Mentoring. Includes keyword search tool.
o Explanation: By far, the most mentioned reason for our students' success. Bite-sized lessons typically take 30 minutes to complete; can be completed on a lunch break. Each "Bite-sized Lesson" includes links to every type of content as well as to other learning tools, e.g., Student Discussions and Professor Mentoring.
o Student benefits: Students learn about 25% more per study hour, thereby gaining more knowledge to answer more exam questions correctly. Makes passing easier and increases student success rate. See what our students say
No time limit on using the course. Free online updates and free retakes until you pass, plus one year. Guaranteed.
o Explanation: All other courses charge extra for updates after a specified date.
o Student benefits: CPAexcel's initial price is your total price to pass. You get total scheduling flexibility, e.g. when to start preparing, how many hours per week to study, to take time off for a family emergency. Never worry about paying extra.
BOTH Online AND Off line delivery with synchronized scores
o Explanation: Buyers receive both online access and DVDs for off line access.
o Student benefits: Literally, learn anywhere, anytime. Switch between modes and access your most recent scores. Off line provides backup to online service.
Mentoring by Subject-Expert Professors (Standard in Gold Medal Courses)
o Explanation: Students receive unlimited access to subject-expert professors who provide prompt, authoritative answers to each student's questions. The professors also monitor student progress, offering advice and suggestions when appropriate.
o Student benefits: Increased confidence knowing that you are never on your own. You always have prompt access to a teaching professional who is an expert in the topic.
These and other features, unique to CPAexcel, are key reasons why CPAexcel is the top online CPA review course and the best choice for passing the CPA Exam in 2011.
CPAexcel Chosen As the Top Online Course:
After evaluating several prominent CPA review courses, a Big 4 Public Accounting Firm recently selected CPAexcel's Video Gold Medal Course as the exclusive online/off line Review Course for its staff in 2011.
You may learn more about CPAexcel's CPA Review Courses at http://www.cpaexcel.com.
About the CPA Exam:
The CPA Exam is one of the most difficult professional certification exams. Fewer than half of those who take the exam pass. The pass rate for exam candidates who complete the CPAexcel course is 87% - nearly twice the national average.
About CPAexcel:
CPAexcel CPA review courses are delivered via the Internet, and on DVDs and 16GB flash drives, to CPA Exam candidates worldwide. CPAexcel's team of award-winning professors, from top accounting colleges, author the course materials, deliver video lectures, and mentor CPAexcel students as they study.
CPAexcel is Safe Harbor Certified by the U.S. Department of Commerce for providing data privacy protection meeting the exceptionally high standards of the European Union (EU).
CPAexcel is published by Efficient Learning Systems, Inc., a privately owned company located in Sedona, Arizona.
For additional information on CPAexcel CPA Review courses, please visit http://www.cpaexcel.com.
###