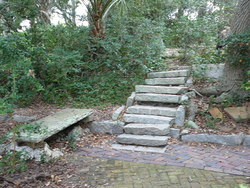 Permaculture is about mutli-dimensional design.
Saint Petersburg, FL (PRWEB) October 7, 2010
A growing interest for renewable resources which respects all livings things isn't just in demand, it is necessary to nourish all life forms. Ignited by this demand, on October 23rd, 2010 The Permaculture Guild will set in motion the first of its six weekend course series on Professional Permaculture Certification Design.
The Professional Permaculture Certification Design Course is scheduled to comfortably happen every other weekend. The first two weekends are the most imperative of the six week curriculum. The Permaculture Guild impels participants to immediately visit their website, CLICK HERE , as space for classes is limited. Class hours are conveniently scheduled to start at 9am and end at 6pm. The Professional Permaculture Certification Design classes will be held at the Sacred Lands in St. Petersburg, Florida.
Providing the training for a core set of design principles, The Permaculture Guild has secured a beautiful example showcasing one of nature's most magnificent natural canvases. Sacred Lands is referred to as Jungle Prada. This exciting location offers pupils an extensive and hands-on learning experience. Sacred Lands was paved by hand using Augusta Bricks. The landscape boasts edible plants and views of birds and marine-life. The Permaculture Guild choose Sacred Lands, which is the location of an ancient Tocobago Village, because of the magical & genuine experience of nature it can bestow upon their pupils.
Permaculture is about mutli-dimensional design. The connections between nature and its elements coexisting with a variety of functions. The Permaculture's Guild founders, Ken Benway and Cory Brennan, take pride in their extensive resumes. Benway and Brennan have constructed a design course module mirroring the principles of their combined knowledge. Benway has thirty years of design engineering experience. Brennan has spent over twenty years advocating for social justice and human rights matters. Both Benway and Brennan's full biographies can be located HERE.
The Professional Permaculture Certification Design Course is scheduled for October 23rd & 24th , November 6th & 7th and 20th & 21st, December 4th & 5th and 18th & 19th - with the final classes being held on January 8th & 9th of 2011. As an array of topics will be discussed and taught, a summary of subject matter includes: Permaculture Ethics and Design Principles, Land & Nature Stewardship and Land Tenure and Community Governance. As stated, the first two classes are crucial to the certification. Space is limited. Sign up HERE!
###