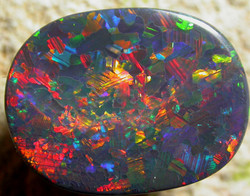 Color, Cut, Clarity and Weight all play key components in a gemstone purchase.
(PRWEB) October 7, 2010
The staff of Opal Plus, a gemstone and jewelry wholesaler based on the Gold Coast, Australia, are thrilled to announce a total of 190,000 jewelry and gemstone sales via their specialist online auction network.
To coincide with this event, the staff have hand picked some of the best educational and informative articles from their extensive library, containing some 300 articles and how-tos on learning, building and appreciating your own gemstone collection.
How to preserve wealth: Buy Jewelry
How to protect one's wealth has been a conundrum for many investors. To maintain ones wealth for future generations one must overcome the forces of inflation, technological change and darker forces such as depressions and wars. History has shown the stock market and to a lesser extent property as able safe guards for the first two problems investors face.
How to understand the meaning of Gold Hallmarks
Many people don't know the actual gold content or the pureness of gold alters the softness or hardness of the metal. Gold is measured in caratage or 'kt'. You will need to determine how often you will be wearing your jewelry - Gold is a soft metal and can easily bend or be broken when in its most pure form.
Color, Cut, Clarity and Weight all play key components in a gemstone purchase. We will cover these concepts and more in this article. When you buy a gem Most of the time color plays a big part in your purchase. Color is dependent on the chemical composition of the gem along with the cut, shape, the clarity and much more!
How to start your own gemstone business
Many buyers on our auction sites re sell our products and have a good Gem business.
Our sites have one of the highest repeat buyer percentage of most online shopping sites as we have targeted repeat buyers with good wholesale and trade prices and bulk parcel deals.
Many buyers resell our products by value adding to the opal or gemstone or making their own creative jewelry.
How to buy opals on the internet
The base body tone guide is the best kept secret for buying opals on the internet, as most internet sellers give a fairly accurate description of the stones body tone that they are selling.
How to drill a hole in an Opal
To drill a hole is not as simple as it sounds. We find many people buy opal or gemstone and try to drill a hole and don't succeed. This can be very frustrating if the following procedure is not followed.
The two main problem areas are:

Drill is set on fast speed
Drilling through stone chips other end
Coin mintage collapsed the Roman Empire
Is history repeating itself?
In the third century AD, the Roman Empire went through a hard period, known as the "military crisis". In this period (235-284), the Roman Empire lived one of its darkest periods. And one of the motives for this was a coin.
Collecting ancient Roman Coins
When you collect coins, the ancient ones are a pretty attractive option and, by far, the most popular ones are the Roman Imperial Coins.
###