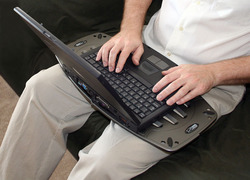 I've always said that some laptops can get so hot that you can fry an egg on them. Well, now laptops are trying to fry your eggs.
Rancho Cucamonga, CA (PRWEB) October 7, 2010
LapWorks™ Inc., a leading maker of ergonomic laptop desks and accessories, responded today to news articles concerning Toasted Skin Syndrome. According to one article, "People who work with a laptop on their knees can develop 'Toasted Skin Syndrome', an unusual-looking mottled skin condition caused by long-term heat exposure." These articles went on to say that the condition looks like "a sponge-patterned skin discoloration" and "in very rare cases, it can cause damage leading to skin cancer."
The medical term for Toasted Skin Syndrome is "Erythema Ab Igne," also known as "laptop-induced-dermatosis." These articles quote Drs. Arnold and Itin from University Hospital in Basel, Switzerland: "to be safe, place a carrying case or other heat shield under the laptop if you have to hold it in your lap."
LapWorks has long been an advocate of protecting the user from the "Hot Lap" affect. The company's line of four lap desk were designed exclusively to prevent hot lap and protect the user. The desks act as a heat shield under the laptop when using the device. Overheating laptop or Notebook computers have been a source of discomfort for their owners for years.
It is now obvious that hot lap isn't the worst of the potential problems with overheated notebooks. Reports surfaced a few years ago that some notebooks were spontaneously combusting due to overheated batteries. At about the same time, a study by the State University of New York concluded that overheated laptop usage can lead to low sperm count and infertility in young men. If that wasn't enough, now there is proof positive that using an overheated notebook on the lap repeatedly for extended periods of time can lead to Toasted Skin Syndrome.
Laptop Desks from LapWorks not only prevent dreaded 'toasted skin syndrome' but can also prevent other injuries that are common with extended notebook usage. Persons who squeeze their legs together to support a notebook on their lap or who hunch over a notebook while typing on their lap can develop serious shoulder, neck and back injuries. Proper posture, or ergonomics as it is called, is key to preventing long-term musculoskeletal injury. And a 22" long, lap-spanning laptop desk from LapWorks can be the simplest solution for less than $30.00.
Those at greatest risk from injury are:

Students who typically use poor posture because they are young and feel indestructible
Mobile Professionals who travel with their notebooks and don't often have a desk available
Couch Potatoes with their notebooks on their lap while watching TV
Video Game players who don't consider their posture in the heat of battle
José Calero, President of LapWorks and the driving force behind the call to prevent injuries related to notebooks says that they "routinely cause ergonomic related injuries . . . injuries like Carpel Tunnel Syndrome or Cumulative Trauma Disorders. Ask any back specialist and they will tell you that four in five patients have chronic nerve damage caused by working on a laptop incorrectly." He goes on to say "Our Lap Desk products can prevent ergonomic related injuries and they've been lab tested to reduce heat build-up in notebooks up to 20%." He ended with this: "the problem is getting much worse as ergonomic related injuries are rising at an unprecedented level due to incorrect laptop usage."
So the bottom line is to protect against overheated notebooks and ergonomic issues, you must become familiar with proper 'notebook posture' and how to improve ergonomics with the use of a Laptop Desk from Lap Works. The Laptop Desks are available at http://www.lapworksinc.com - they retail for $29.95 and are also available from http://www.Amazon.com with free shipping.
About LapWorks:
LapWorks Inc. designs, manufactures and sells affordable, ergonomic portable computer lap desks and desk stands that take the hassles and hazards out of mobile computing, and reduce the heat affects in overheated laptop computers. LapWorks invented the portable, wide-span lap desk product category in 2000, and is the leading company making dual-purpose lap desks that double as typing stands. LapWorks Inc., 7955 Layton Street, Rancho Cucamonga, CA 91730; 909-948-1828; 877-237-3936; email: sales(at)laptopdesk(dot)net; Web site: http://www.lapworksinc.com.
Note: Photos and an illustration of correct laptop ergonomics are available: http://www.laptopdesk.net/press.html
"LapWorks" and "Laptop Desk" are trademarks of LapWorks™, Inc.
###