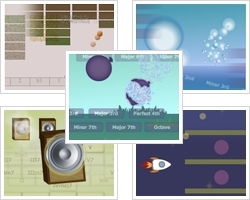 music learning and ear training based on a set of fun and engaging games
(PRWEB) October 10, 2010
Theta Music Trainer (http://trainer.thetamusic.com) opened today, providing a complete set of online games designed to teach the fundamental skills of music. Using the latest developments in music learning techniques, Theta Music Trainer is designed for musicians of all levels who want to deepen their understanding of music and improve their ability to play music by ear.
Musicians of almost every level and style share a common desire: they would like to have a better ear for the music they play. Musicians with a 'good ear for music' are able to hear a song once and play it straight back from memory. They memorize music faster and with more accuracy. They can imagine melodies in their minds, and then quickly write them down or play them on an instrument. These players are often described as 'gifted', and their playing can appear magical, as if they are using some kind of supernatural force.
In reality, however, the ability these musicians display is based upon specific skills that can, in fact, be learned. Some of these skills have traditionally been included in music theory and ear training courses. Others are covered in books, usually with a CD of drills and exercises. The challenge for many students, though, is that the material is often a bit dry, requires extensive practice, and can seem overly academic and disconnected from actual music making.
Theta Music Trainer was created with the purpose of injecting an element of fun and excitement into a musician's daily ear training routine. Rather than simply doing the same drills over and over, the training is based around ten different games, each designed to strengthen a particular area of musicianship. For example, one game helps the student become familiar with the tones of major and minor scales, while another game trains the student to recognize different types of chords. During a workout session, players move quickly from one game to the next, somewhat like exercising on different machines at a fitness club.
The games are classified into four categories: melody, harmony, rhythm and sound. Each game is divided into twenty levels of difficulty. The games start with simple problems and gradually increase in complexity. Subscribers may enroll in a 30-day course which breaks the training into daily workouts of about 10-15 minutes, providing a balanced mix of ear training and music theory practice. All game scores are recorded and players may check their results and progress reports at any time.
# # #