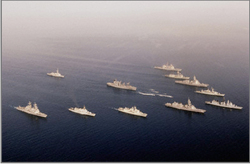 Virginia Beach, VA (PRWEB) October 12, 2010
Engineering Software Reliability Group (ESRG) has been awarded a prime contract to provide Remote Monitoring & Diagnostics support services to the Naval Surface Warfare Center, Carderock Division (NSWCCD), Ship Systems Engineering Station (SSES), in Philadelphia, PA. NSWCCD is the Navy's principal Test and Evaluation Station and In-Service Engineering Agent.
ESRG's team of software architects and developers will provide architecture, design, development, testing, and project management support for NSWCCD's various Machinery Health Monitoring Systems and technology programs. ESRG's team of engineers will provide engineering design, logistic design, and installation support. Together, the teams offer turnkey solutions to NSWCCD's programs. The contract has a one-year base period with four one-year options and a value of nine million dollars, if all options are exercised. "NSWCCD-SSES looks to ESRG for our state of the art software technology and expertise writing diagnostic and anomaly detection rules to monitor the U.S. Navy's fleet. The awarding of this contract displays the confidence the Navy has in ESRG's ability to deliver a quality product capable of providing Enterprise Remote Monitoring of the U.S. Navy Fleet " said Ken Krooner, President at ESRG.
SeaPort-e is the Navy's electronic platform for acquiring support services in 22 functional areas including Engineering, Financial Management, and Program Management.  The Navy Systems Commands (NAVSEA, NAVAIR, SPAWAR, NAVFAC, and NAVSUP), the Office of Naval Research, the United States Marine Corp, and the Defense Threat Reduction Agency (DTRA) compete their service requirements amongst 1800+ SeaPort-e IDIQ multiple award contract holders.  The SeaPort-e portal provides a standardized, efficient means of soliciting offers from amongst the diverse population of large and small businesses and their approved team members.  All task orders are competitively solicited, awarded and managed using the SeaPort-e platform.  Since nearly 85% of its contract–holders are small businesses, the SeaPort-e approach to acquiring services provides opportunity that fuels the Nation's engine of job growth.
About ESRG
ESRG was established in 2000 to provide leading-edge data analysis and remote monitoring technology.  ESRG supports the remote condition monitoring of over 100 US Navy surface fleet ships and offers the Ostia Edge™ Monitoring Suite for a range of industries in the commercial sector. ESRG implements proven products and services enabling automated analysis in support of machinery owner/operators' business strategies. This is accomplished by providing engineering and software products for rule development, data integration, system engineering, maintenance engineering, and software and database design engineering.
# # #