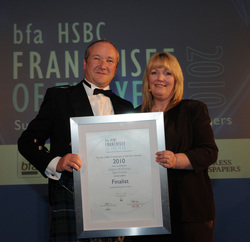 (PRWeb UK) October 6, 2010
Recognised for his success in turning a once underperforming business into one of the largest sign companies in the area and across the Signs Express group, Stephen McMurray has excelled since buying the business in 2005.
Through his strong belief in customer service, great attention to detail and his exemplary management skills, Stephen has helped the centre achieve high levels of repeat business and customer referrals as well as increasing turnover by an impressive 200%. He has been able to capitalise on his previous experience and by embracing the business potential, he has achieved in the past two months alone, the turnover equivalent of what the previous owner only managed to achieve in a year.
But the good news didn't end there, Signs Express (Falkirk) was also awarded Best Vehicle award at a separate event at the Signs Express Sign Excellence Awards for his team's vehicle wrapping skills to create eye-catching vehicle livery for Gemini Supplies.
Steve commented on both awards: "It's been a very positive few weeks for myself and my team having reached the finals of the Franchisee of the Year awards and also winning the Best Vehicle Graphics award at the Sign Excellence awards. When I first took over the business it was underperforming and had poor brand presence but I could see the potential. We've worked really hard to build our reputation in the Falkirk area which has resulted in around 80% of our business actually coming from repeat orders due to our customer relations."
The Franchisee of the Year awards which were hosted on 30th September at the Birmingham NEC recognised the achievements of the UK's most successful franchisees. The night brought together a number of franchisees from different market sectors to receive recognition for their astute business acumen and approach to the current economic climate. Overall winner of the award was Gerald Thompson from McDonald's.
Established over 10 years ago, Signs Express (Falkirk) has surpassed expectations since Stephen became franchisee. By recognising the weaknesses, investing in new technology and his employees, he has achieved what he set out to and is continuing to see the business develop and flourish as a result.
###