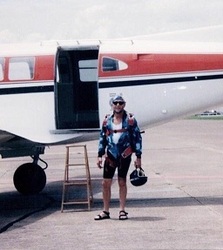 I consider myself as cured.
Dusseldorf, Germany, (PRWEB) October 7, 2010
After completing twelve parachute jumps over the weekend, including an 18,000 ft. jump without supplemental oxygen, Aaron Wood of Waurika, Oklahoma considers himself cured from a debilitating heart condition that left him wheelchair-bound in May 2009 when he arrived at the XCell-Center in Dusseldorf, Germany for stem cell therapy.
"It's like having a new heart, life, and a future. I have no limits on my life, I have the strength of a 40 year old. I have made many skydives. I even made a jump from 18,000ft with no oxygen boost. I now walk 3+ miles a day. I sleep 6 hours and feel great; totally rested. Before I slept 12 hours and was just as tired as when I went to sleep. I have no chest pains," exclaimed Mr. Wood.
Since Mr. Wood underwent stem cell therapy at the XCell-Center, his left ventricular ejection fraction, a measure of the heart's pumping efficiency has more than doubled from just 19% to nearly 50%.
Before treatment, every heart patient undergoes comprehensive cardiovascular diagnostics at the XCell-Imaging and Diagnostic Center. These include cardiac MRI, cardiac CT, echocardiography, and ergospirometry.
The treatment begins by collecting a small amount bone marrow from the patient's hip bone using a thin needle under local anesthesia. The stem cells are then separated from the bone marrow at the XCell-Center's EU certified cGMP laboratory (current good manufacturing process). Before the cells leave the lab, they are counted and their vitality is confirmed. The last step of the treatment is the minimally invasive implantation procedure, which consists of inserting a cardiac catheter into the patient's right femoral artery and then guiding it to the heart where the stem cells are released into the coronary arteries. Patients who cannot undergo cardiac catheterization due to health issues such as kidney failure can also be treated via intravenous application.
"After treatment, my drug bill was cut in half. I went from twelve daily medications down to three and I am trying to talk my doctor into discontinuing those as well. I came to Germany in a wheelchair and I came home walking and toting my own luggage. I have not slowed down yet. I consider myself as cured. Thanks to the XCell-Center, I have a future," added Mr. Wood.
The cost of the XCell-Center heart treatment is 13,500 Euros. Patients suffering from ischemic or non-ischemic cardiomyopathy who have a diminished left ventricular function may qualify for this life-changing treatment.
About the XCell-Center
The XCell-Center operates treatment centers in Cologne and Dusseldorf, Germany. It is the first clinic in Europe to specialize in regenerative medicine using autologous bone marrow stem cell therapy and operates in accordance with German law, European guidelines and ISO 9001. Its specialized medical team of German physicians includes specialists in: neurosurgery, orthopedics, cardiology, radiology, anesthesiology and pharmacology.
The XCell-Center also treats Diabetes and its complications (Erectile Dysfunction and Peripheral Artery Disease), Stroke, Cerebral Palsy, Autism, Spinal Cord Injuries, Orthopedic diseases, Heart Disease and degenerative diseases such as Multiple Sclerosis, Parkinson's, Alzheimer's and several eye diseases.
Since its inauguration in 2007, more than 3,500 patients have been treated.
For more information on Stem Cell Therapy:
XCell-Center Website: http://www.xcell-center.com
Twitter: http://www.twitter.com/xcellcenter
Facebook: http://www.facebook.com/XCellCenter
XCell-Center GmbH
at the Institute for Regenerative Medicine
Am Heerdter Krankenhaus 2
40549 Dusseldorf, Germany
Phone: 1-866-680-8202 (USA Toll-Free) (+49) 0221-802-5095 (Germany)
Fax: 1-713-583-9322 (USA) (+49) 0221-2921-2550 (Germany)
###