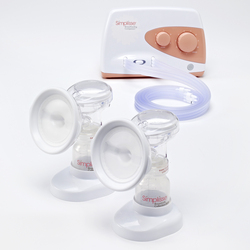 "This is going to change the whole way moms look at expressing milk," says Jennifer Meyer, a Simplisse test mom from Reno, Nevada.
St. Louis, MO (PRWEB) October 7, 2010
Simplisse™, a U.S.-based manufacturer of breastfeeding products, has launched the Double Electric Breastfeeding Companion™, featuring next-generation technology that uses a gentle compression motion, unlike traditional breast pumps, which results in a comfortable milk expressing session for moms.
The Simplisse Double Electric Breastfeeding Companion's compression technology simulates the comfort and benefits of a baby at the breast to naturally and gently elicit milk. The BabyFace™ Flexible Breastcups offer a dual-cup design where the inner cup simulates a baby's suckling motion by mimicking baby's mouth movements while the soft, pliable outer cup conforms to mom's breast, much like a baby's face. The breastcups work together to provide a gentle compression on the areola, combined with a light latch pressure – similar to that of baby – to make the expressing session feel much more like baby feeding at the breast.
"This is going to change the whole way moms look at expressing milk," says Jennifer Meyer, a Simplisse test mom from Reno, Nevada. "It's much more natural, much more in line with what babies actually do when they feed. At first I didn't think it was working until I looked down at the bottle and saw milk flowing. This is a game-changer, I believe."
Extensive testing was performed to ensure the effectiveness of the Simplisse Double Electric Breastfeeding Companion. In those tests, the average time to milk letdown and the average milk volumes were comparable to the data reported in the medical literature for other pumps.
"We are bringing a kinder, gentler approach to moms expressing their breast milk," explains Dr. Jimi Francis, Ph.D., IBCLC and Simplisse Clinical Director. "The singular goal of developing this new technology was to make expressing milk as comfortable as possible for moms while ensuring that they are able to collect the milk they need for their baby."
The Simplisse Double Electric Breastfeeding Companion allows expression from one breast at a time or both breasts at the same time. The Breastfeeding Companion also features speed and flow knobs, which allow mom to select the most comfortable and efficient settings for her needs.
The product also features a high-style tote bag, a request from the moms who helped design the product. The black micro-fiber shoulder bag has room for the motor unit and accessories, including a cooler pack, freezer gel packs, and wet storage bag – all in a discreet, purse-like design.
The Double Electric Breastfeeding Companion is the newest addition to the complete line of Simplisse breastfeeding products, including feeding accessories, milk storage products, skin care, breast pads and nutritional supplements for breastfeeding moms.
About Simplisse, Inc.
Simplisse, Inc. created the Simplisse Breastfeeding Companion and related breast care items to enhance the natural bond between moms and babies when breastfeeding. Simplisse was designed and engineered in the USA by a team of lactation consultants and moms.
The Simplisse line includes breast pumps, breastfeeding accessories, skincare products, and nutritional supplements. For more information, visit http://www.simplisse.com.
###