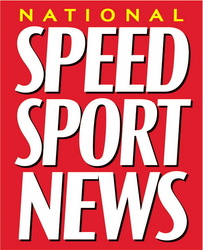 Rather than simply launching another website, we built an entirely new foundation for our future as a business," said NSSN Publisher Corinne Economaki.
Harrisburg, NC (PRWEB) October 7, 2010
National Speed Sport News , founded in 1934 and edited for the past 60-plus years by motorsports journalism icon Chris Economaki, has launched a new aggressive digital strategy anchored by an all-new website and mobile application designed to deliver the same award-winning news, feature stories, and opinion -- plus breaking news, race results and standings, and much more, 24 hours a day, seven days a week.
HARRISBURG, N.C. -- In December of 2009, National Speed Sport News Publisher Corinne Economaki headed to the Performance Racing Industry show in Orlando on a mission. With the economy struggling, costs increasing and her audience slowly turning toward electronic media, Economaki was determined to avoid the demise that had befallen several other motorsports periodicals.
"I was looking for some help, some suggestions, even ideas on how to make our website better and how we could monetize our online content," said Economaki. "We knew our readers wanted more, and we thought we were doing the right things, but despite several previous attempts, our results were disappointing."
A mutual friend introduced Economaki to Joe Tripp, a digital media executive who was at PRI conducting a seminar on the Internet and motorsports. That chance meeting evolved into a partnership that has positioned National Speed Sport News as a digital leader in motorsports news and information...a position it has enjoyed on the print side for decades.
"Corinne's challenges were not unique," said Tripp, president of Ingear Digital, LLC and former executive director of Interactive Operations at SPEED. "But the potential was there. There is no question National Speed Sport News has the credentials and authoritative content, but beyond the newspaper, they just didn't have an effective mechanism to leverage it. It's really been a holistic approach...we've had to build everything from sales processes to web pages, a mobile site, a content syndication service, social media strategy, search engine marketing and everything in-between."
With the launch of the new NationalSpeedSportNews.com and NSSN Mobile, race fans will enjoy the latest headlines, breaking news, results and standings, compelling photos and video and more wherever and whenever they want. Subscribers will have exclusive access to feature content and instant downloads of the digital edition of National Speed Sport News every week.
"This time we are getting it right," Economaki said. "Rather than simply launching another website, we have built an entirely new foundation for our future as a business. Our partnership with Ingear Digital represents a commitment to our advertisers, subscribers and fans who expect nothing less than the very best motorsports news and information -- delivered on their terms. We are confident they'll be pleased with the results."
NSSN Mobile and NSSN Newswire are launching this fall.
About National Speed Sport News: National Speed Sport News (http://www.nationalspeedsportnews.com), America's Weekly Motorsports Authority™, started publishing in August of 1934 as National Auto Racing News. Now, 76 years later, it's still the most-respected, most accurate, and most varied source of motorsports information in the United States. Long known as "The Paper of Record," it's the only motorsports periodical on Library of Congress microfilm.
About Ingear Digital, LLC: Ingear Digital, LLC is a business development consulting firm specializing in the motorsports industry. Joe Tripp is a computer and interactive media veteran who recently left a successful career as head of the digital operations group at SPEED. Tripp has more than two decades experience and entrepreneurial success in technology, graphic design, and digital media sales, consulting and project management. Together with its partners and cadre of talented developers, designers, and specialists, Ingear utilizes a practical, real-world approach to help businesses achieve success in the digital space.
# # #