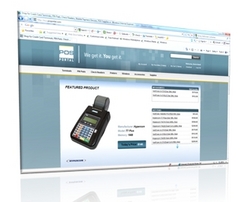 Sacramento, CA (PRWEB) October 6, 2010
POS Portal, a leading distributor of point-of-sale (POS) equipment and supplies, announced the launch of a new eCommerce site (buy.posportal.com). Designed specifically for the payments industry resellers such as ISOs and sales agents, the site offers a host of time-saving features and online savings.
The new system features a new concept for the industry where daily prices of equipment and "Hot Deals" appear on the homepage. This allows the user to instantly check all the prices of the most popular terminals and PIN pads. Additionally, any item a user adds to their "favorites" is also displayed on the homepage so they can quickly see the price for the day and add it right to their cart.
The site allows resellers of POS equipment such as credit card terminals, PIN pads, check readers, etc. the ability to quickly find (or research) specific models, make a purchase and include any item in their list of favorites. For equipment with various configuration options and accessories, the choices are presented to the user in a simple selection box.
Extra effort was put into streamlining the checkout process so users are able to execute their order in a matter of seconds. For regular purchasers, a convenient "re-order" button allows them to go right to checkout with all the items and configuration options duplicated.
About POS Portal
POS Portal is a leading provider of just in time terminal sales, rental, and leasing solutions coupled with value added deployment services. The company's deployment and installed terminal asset management platform accessed both in a native user interface and via web services based application programming interfaces, provides real time pin point control of device configuration, fulfillment, returns management, and repair processes.
POS Portal provides fulfillment services from its facilities in Sacramento, California and Louisville, Kentucky. POS Portal's product offerings include standalone hosted software solutions including lead management, application processing, customer relationship management, and risk management. For more information, visit http://www.posportal.com.
###