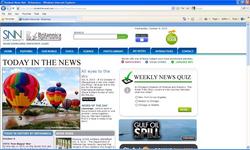 Student News Net is one of the gems in our school product portfolio. It really moves kids to learn about what's going on in the world around them.
Chicago, IL (PRWEB) October 7, 2010
Encyclopaedia Britannica's Student News Net (SNN), an online current events service for grades 4-8, has received an Editor's Choice Award from Library Media Connection (LMC), a leading magazine covering educational technology.
The awards to Britannica and the other winners were announced in the magazine's October issue.
Published by Britannica Digital Learning, a division of Encyclopaedia Britannica, Inc., Student News Net stimulates students' interest in news and current events and helps teachers integrate current topics into classroom lessons. It offers safe, student-appropriate coverage of world affairs with an archive of thousands of illustrated articles to which new ones are added each week.
The site includes original reporting and photography on significant events suitable for classroom discussion, such as the ceremonies marking the 65th anniversary of D Day in France. It features an interactive Weekly News Quiz, learning activities and lesson plans that teach students how to organize facts, make connections, and use information in problem-solving activities. Features such as Word of the Day and Today in History connect today's events with other areas of the curriculum, such as math, science, social studies and language arts.
Student News Net has won a Teachers' Choice Award and was a finalist in this year's competition for the Distinguished Achievement Award of the Association of Educational Publishers.
"SNN is one of the gems in our school product portfolio," said Michael Ross, a senior vice president at Encyclopaedia Britannica and general manager of Britannica Digital Learning. "It's a beautiful, high-quality site that really moves kids to learn about what's going on in the world around them. I'm happy to see it's getting the recognition it deserves from educators and editors."
Schools and school districts interested in Student News Net or any of Britannica's products can call 1-800-621-3900 or go to http://info.eb.com for more information.
About Encyclopaedia Britannica
Encyclopaedia Britannica, Inc. is a leader in education publishing whose products can be found in many media, from the Internet to wireless devices to books. A pioneer in electronic publishing since the early 1980s, the company markets a variety of encyclopedias and other reference works, curriculum products for schools, language-study courses and other learning products, many of which are available online at http://www.britannicastore.com. Britannica is also active on Twitter and Facebook. The company makes its headquarters in Chicago.
# # #