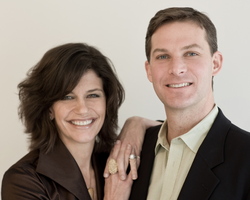 I've noticed that entrepreneurs and small business owners tend to repeat the same patterns that keep them stuck
Durham, NC (PRWEB) October 8, 2010
Bria Simpson, MA, a certified 6-Figure Business and Marketing Coach and co-owner of Excelerated Success Coaching Company, is offering a no-cost, 2-part teleseminar series- "The 5 Habits of Highly Successful Entrepreneurs and What You Must Know for Success".
Bria has spent many years studying the methods, strategies, and mindsets of some of the world's most successful entrepreneurs. Her "12 Habits of Highly Successful Entrepreneurs" is the result of this extensive research, her work with her own clients over the past 8 years, and her own business success with her husband and business partner, Mark Simpson.
"In my coaching over the past 8 years, I've noticed that entrepreneurs and small business owners tend to repeat the same patterns that keep them stuck. Two of the most common patterns I see in business leaders is that they take on way too much themselves and they don't think BIG enough", says Bria. "I became intrigued to find out why some people succeed and others don't when faced with similar circumstances. After much research, study and my own business experiences, I discovered 12 habits that are consistently present in highly successful entrepreneurs. I am thrilled to openly share some of those habits that separate the highly successful from the rest of the pack. In doing so, my intention is to help entrepreneurs and small business owners identify precisely what areas they need to improve in order to reach a much higher level of success."
Join Bria Simpson, as she and some of her top clients show you:
•The REAL definition of "Success"…and it may not be what you think.
•The 3 huge mistakes entrepreneurs make that sabotage their success.
•5 Habits of Highly Successful Entrepreneurs… and how to adopt them as your own
•The BEST method to tackle your anxieties and fears that are preventing you from multiplying your income.
•How to maximize your energy so you get twice as much accomplished… in LESS time than you are spending now.
To learn more about this 2-part tele-series go to: http://ExceleratedSuccess.com/5habits
A time-limited recording will be sent to those who can't attend live.
Bria Simpson, MA, a certified business and marketing coach, has owned four businesses, served as a business consultant and has coached for 8 years. She has appeared on Fox News, Martha Stewart XM, in Redbook, Newsday and many other publications. Her husband, Mark Simpson, is also a certified business and marketing coach and has also owned four businesses, including one he grew into a multi-million dollar company, as well as a current successful online business. Together, they are the "Dynamic Duo of Business Coaching" helping entrepreneurs and small businesses vastly accelerate their growth, with ease, so they can enjoy the life and the freedom they desire.
###