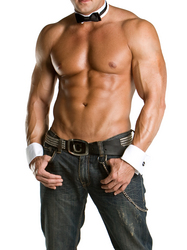 "Chippendales owns an incontestable federal registration for the Cuffs and Collar registration covering exotic entertainment services for women
Las Vegas, NV (PRWEB) October 7, 2010
Chippendales® is setting the record straight regarding the recent decision by the U.S. Court of Appeals for the Federal Circuit (case number 2009-1370) and the many secondary reports regarding the decision that have contained serious misrepresentations about the Court's holding and the current status of Chippendales' rights to its famous "Cuffs and Collar" trade dress.
"Chippendales owns an incontestable federal registration for the Cuffs and Collar registration covering exotic entertainment services for women," says Kevin Denberg, Managing Partner, Chippendales. "The Court's decision on October 2 in no way diminishes the validity or strength of this famous iconic brand symbol as Chippendales® has never lost any case involving this mark and have received monetary settlements that, over the last 10 years, total in the six figures."
Chippendales will continue to vigorously enforce its rights to this mark in the female entertainment market as well as in related markets such as clothing, calendars, nightclubs, Casino games, or other products primarily bought for or by women. In the case just decided, Chippendales sought to lower its enforcement costs by establishing that its "Cuffs and Collar" uniform is inherently distinctive which has certain benefits in litigation and generally makes infringers more apt to quickly settle.
"While we are disappointed by the Federal Circuit's ruling, we take comfort in the observation of the Trademark Trial and Appeal Board that issued the ruling affirmed by the Federal Circuit (registration number 2,694,613) that, while it refused to register this mark as inherently distinctive, 'the fact that (Chippendales) already owns an incontestable registration for the Cuffs and Collar Mark should serve as no small consolation in spite of our decision here,' " adds Denberg.
Chippendales is the premier provider of entertainment for women and recently celebrated its 30th Anniversary as the #1 Male Revue in the World. The Company produces Broadway-style shows worldwide and licenses its intellectual property for select consumer products ranging from apparel and accessories to slot machines and mobile content. The Company also currently operates Chippendales.com and controls over 50 other domain names, providing an online lifestyle and entertainment destination for women. Chippendales.com features a free site offering a wide array of editorial and pictorial content and the Chippendales' store, which sells branded products. Chippendales was established in 1979 and has headquarters in New York, with offices in Las Vegas and London.
###