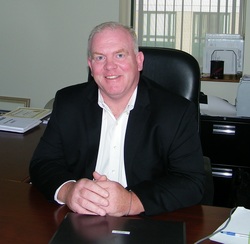 I'm very excited about the possibility of bringing associate degree programs in Physical Therapy Assistant and Ultrasound Technician here to MTI in the near future.
Woburn, MA (PRWEB) October 7, 2010
Local entrepreneurs, Kevin O'Brien, Duxbury, MA, and Song Jin, Andover, MA, partners at Millennium Training Institute, are currently seeking associate degree granting status for career specific training by 2013. This is part of a long-term plan for becoming a private college. Kevin O'Brien, CEO and School Director states; "Many students who graduate high school don't feel the traditional two or four year college path is a good fit for them. They prefer an education that is career specific. I feel having a private college in Boston that focuses on career specific training is an option many young students are looking for."
Since 1999, Millennium Training Institute's history shows continuous growth both academically and physically. In its first two years, MTI provided part-time educational options for students looking to further their career goals. By 2001, MTI was approved as a Massachusetts training provider and could offer full-time career training. With enrollments growing, MTI expanded its main school location in Woburn to include a satellite school on Summer Street in Boston.
In 2007, Millennium Training Institute was awarded accreditation by the Accrediting Commission of Career Schools and Colleges (ACCSC). The Accrediting Commission of Career Schools and Colleges is listed by the U.S. Department of Education as a nationally recognized accrediting agency. In addition, MTI is also approved by the Massachusetts Department of Elementary and Secondary Education, Office of Proprietary Schools. MTI is an eligible institution for Federal and State Financial Aid programs to assist qualified students with Title IV funding in the form of Stafford loans and/or Pell grants.
Millennium Training Institute currently offers programs that follow three in-demand career paths, Medical, Office Administration and Information Technology (IT). Sought-after programs within these fields include Clinical Medical Assistant, Medical Administration & Billing/Coding, Business Administration & Bookkeeping, and Network Systems Specialist. The curriculum at Millennium Training Institute is designed to open doors to a new career, or help move students forward in a pre-existing, long-term career. "Mr. O'Brien states, I'm very excited about the possibility of bringing associate degree programs in Physical Therapy Assistant and Ultrasound Technician here to MTI in the near future." To find out more about the training programs available at Millennium Training Institute, please visit their website at http://www.mtiedu.com
###