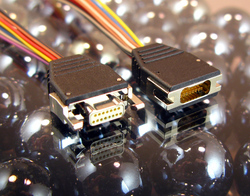 Minneapolis, MN (Vocus) October 6, 2010
Omnetics Connector Corporation, the leading manufacturer of miniature high-rel connectors, has announced a new wave of interest in its Latching Bi-Lobe® Connector technology for use in ultra-miniature high performance cable systems.
The Latching-Bi-Lobe is a Nano-D shaped metal connector assembly with multiple pins and sockets set on 25 mil. (.635mm) pitch that matches the performance in military specification MIL-DTL-32139. The connector series has taken flight in multiple designs for UAVs (unmanned aerial vehicles) because of its strength and performance in rugged conditions combined with low weight and size. The positive latching process quickly mates and de-mates when needed for quick change-over of instrumentation. Connector mating strength has been tested and certified to exceed the tests specified for QPL tested Nano-D connectors. Now other high technology instrumentation systems are adopting the Latching Bi-Lobe to meet similar needs. Flight line test equipment herald the connector design as it allows high pin count system while using very low space and being low in weight. Also, multiple systems are implementing the Latching Bi-Lobes for multiple phase and frequency modules being used in the same system. Using 30 awg. Teflon® insulated wire bundles that are also shielded and terminated to metal back-shells allow the Latching Bi-Lobe to offer high quality low EMI interconnects that can be locked into and out of a system in just seconds. The pin and socket systems and insulators used inside the Latching Bi-Lobes are the identical designs used by Omnetics to pass MIL-DTL-32139 QPL in its jackscrew locking design. The newer latching system has significantly expanded the usage of the Bi-Lobe from military on into test and measurement, instrumentation and even medical applications. One other application high on the list of users for Latching Bi-Lobes are scanning optical systems used in portable technologies supporting soldiers to robotics.
About Omnetics
Omnetics was formed in 1984 to deliver rugged, reliable interconnect solutions for the most demanding industries. The company has a fully integrated design and manufacturing plant in Minneapolis, Minnesota USA, where it produces micro and nano miniature interconnect products, featuring COTS, Standards and Custom connectors for industries such as Medical , Military, Aerospace, Defense and other technology oriented OEMs.
For further information:
Lori Abfalter: Omnetics Tel.: 763 746 8711
Email: labfalter(at)omnetics(dot)com
http://www.omnetics.com
###