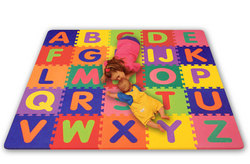 The kids play mat market has been growing in the U.S. for some time
Gilbert, AZ (Vocus) October 7, 2010
Rubber Flooring Inc. announces the introduction of kids play mat floor covering options. Play mats are available in a wide variety of sizes and colors. All foam puzzle mats are also nontoxic, easy to clean, and help to keep kids safe from potential falls.
"The kids play mat market has been growing in the U.S. for some time", states Rubber Flooring Inc. COO Kurt Leitinger. "With this new educational foam floor mat product line designed specifically for kids, Rubber Flooring Inc. will be able to expand into a new market of safe and fun products to help keep children of all ages a little safer while they play indoors." Mr. Leitinger explains, "Some of our employees have recently become expectant parents and they have pushed our product managers to find safe and colorful flooring options for use in their newly converted playrooms. We always planned on expanding into the kid puzzle mat market when the time was right however we may have been pushed into it a little faster than expected by our own employees looking for good flooring deals for their own personal use," Mr. Leitinger states with a chuckle.
The kids play mats are available now. All of the kids play tiles interlock like a puzzle and are available in numerous sizes and educational designs. In addition, all play mats are currently being introduced with a free shipping promotion to help save parents a little bit of money.
"We are excited to have put together such a solid line of kids mat products so quickly" says Mr. Leitinger. "We feel that we have a solution for any age. Whether our customers are expecting a newborn baby, already have a young infant or toddler, or have elementary school aged children, we believe we have a helpful solution. Add in the fact that we are including a free shipping promotion at launch to go along with our low and aggressive pricing and we believe that these kids mats are going to be a big hit with parents."
The Rubber Flooring Inc. team agrees and is excited about the launch. "My wife and I are expecting our first child soon and we are just starting to convert a spare bedroom into a playroom for our son" states rubberflooringinc.com CMO Anthony Schmidt. "I always believed our company should expand into the play mat market for kids but it was always on the back burner. However now that my wife wants to get this room together for our soon to be born baby boy, I may have given a little nudge internally to our product managers to get this product line launched." Operations manager Justin Hoverson also added, "My son is 3 years old and he likes to wrestle around with me all the time. Wrestling on the rug in his room can hurt after a while. I can't wait to take the ABC-123 kid mat home to help protect my own joints and bones", Justin says laughingly.
"Rubber Flooring Inc has been the industry leader in providing gym flooring and interlocking foam fitness mats for use in commercial weight rooms and home gyms for quite some time", concludes Kurt. "Now we are excited to expand into some new important product lines that will not only benefit our customer's, but also benefit our own friends and families."
About Inc Stores, Owner of Rubber Flooring Inc.
Headquartered in Gilbert, AZ, Incstores owns the leading online destination for residential and commercial specialty flooring options including RubberFlooringInc.com and Garage FlooringInc.com. Rubber Flooring Inc. is focused on providing the best selection of rubber flooring, garage flooring, and foam mat products online to its valued customers. All of Inc Stores web shops offer competitive pricing, a top notch and knowledgeable sales and service, and the widest selection available. For more information, please visit http://www.rubberflooringinc.com.
###