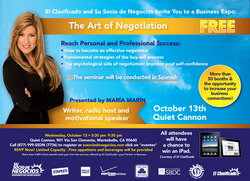 Just as in life, everything in the business world revolves around motivation more than anything else
Los Angeles, CA (Vocus) October 7, 2010
As the economic upturn begins, it seems now is the best time to consider new business approaches and strategies to take advantage of the country's long-awaited financial restoration. With Wall Street and International Stock Exchanges providing hints of a financial recovery that is yet to happen, the timing could not be better for Maria Marin to advise Southern California Latino small business owners on how to stay nimble and jump on opportunities through "The Art of Negotiation".
Maria Marin, a motivational speaker and much-admired Hispanic figure, will reveal the secret to achieving personal and professional success using win-win negotiation techniques. "Just as in life, everything in the business world revolves around motivation more than anything else," asserts Marín, who is also the producer of her own radio talk show in Miami called "Tu vida es tu vida." "The key is to focus on your expectations, and depending on how much or how little you expect, that's how things will turn out."
Among the topics to be discussed by Marín is how one can improve his/her self esteem when it comes to negotiation, a deciding factor in whether a business owner can obtain a positive result or not.
The upcoming Su Socio de Negocios event will take place on October 13 at the Quiet Cannon in Montebello and will be completely free to attendees, with limited seating capacity. Attendees will be able to enjoy complimentary food and drinks as well as participate in a raffle to win an iPad and María Marín's newest book, among other prizes.
The annual B2B expo connecting Latino small business owners to major product and service providers is sponsored this year by Wells Fargo, Verizon, Staples, State Farm and the SBDC. The small business expo has been presented by El Clasificado through the Su Socios De Negocios, "your partner in business" channel since 2006.
Besides the Su Socio de Negocios expo, a series of free small business breakfast workshops are held throughout the year on topics such as using low cost accounting software, marketing using free technology tools, and how to use Facebook for business. The business breakfast series is always presented in Spanish and targets small businesses that prefer to learn and do business in their native Spanish. The SuSociodeNegocios.com website and electronic newsletter reaches more than 25,000 small business owners each week and provides ongoing tips for businesses operating in U.S. Latino grassroots communities.
For media inquiries or for additional information, please call Alicia García al 1-800-450-5852 or agarcia(at)elclasificado(dot)com
# # #