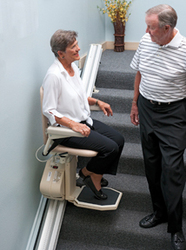 By expanding our product line to include the HOVERLIFT Suite of personal mobility and lifting solutions, Hoveround can continue to help even more people rediscover the joy and freedom that comes with independent mobility."
Sarasota, FL (PRWEB) October 11, 2010
Hoveround® Corporation, the leading direct-to-consumer manufacturer and supplier of power wheelchairs is pleased to introduce the HOVERFLIFT® Suite of mobility products. HOVERLIFT is an exciting new suite of innovative and technology-advanced assistive products that provide personal mobility and secure lifting solutions to enhance the freedom and independence of individuals with mobility issues.
"Hoveround has built a solid reputation as America's leading power wheelchair manufacturer, aiding over 150,000 customers to obtain their mobility again," stated Tom Kruse, founder and CEO of Hoveround. "By expanding our product line to include the HOVERLIFT Suite of personal mobility and lifting solutions, Hoveround can continue to help even more people rediscover the joy and freedom that comes with independent mobility."
The HOVERLIFT suite contains high-quality mobility assistive products designed with comfort, convenience, and safety in mind.
The HOVERLIFT for vehicles is a chair lift that allows easy transport of a Hoveround power wheelchair whether driving to the store, to the park or on vacation. This unique, compact chairlift is actually powered by the power wheelchair, so there is no need for additional wiring or drain on the vehicle battery.
The HOVERLIFT for baths provides a safe and comfortable way for people with limited mobility to enjoy bathing again. The HOVERLIFT for baths is a two-piece, lightweight, battery operated bath lift that fits into most bathtub styles, including corner baths. It safely allows the user to select the angle of recline and lower their upper body comfortably into the bath.
The HOVERLIFT for stairs offers people with limited mobility the freedom to once again access more of their home. The stair lift is compact, quiet, durable, and battery operated. The attached seat folds when not in use making the unit very compact and unobtrusive for anyone accessing the stairs.
The HOVERLIFT product suite by Hoveround can enhance the quality of life and extend the independence for individuals with mobility challenges. For more information on purchasing a new HOVERLIFT product visit http://www.hoveround.com/hoverlift or call 1-800-308-9295 to speak with one of our mobility specialists.
About Hoveround Corporation:
Hoveround Corporation has dedicated nearly 20 years to providing mobility solutions, such as power wheelchairs, which genuinely improve the quality of life for individuals with limited mobility. Hoveround is the only power wheelchair manufacturer that delivers directly to the customer, providing over 150,000 power wheelchairs to those in need. Every Hoveround power wheelchair is custom assembled in the U.S.A.
Hoveround Corporation's full line of mobility solutions also include the HOVERLIFT Suite of personal mobility and lifting solutions, wheelchair ramps, motorized scooters, and mobility accessories to help people with mobility challenges regain their independence and freedom.
###