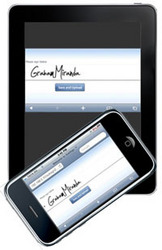 "The solution is so simple that documents can be signed on all platforms including iPhone™, iPad™ and similar mobile platforms and as well as desktop and portable PCs." - said N.D. Reddy, founder and CEO of Sutisoft Inc.
Los Altos, CA (PRWEB) October 7, 2010
SutiSoft Inc., a trusted provider of on-demand (SaaS) and enterprise application software, today announced that its SutiSign eSignature solution V2.4 is now enabled to allow document signing from Smartphones and tablet devices.
Sutisign eliminates time delays, paperwork, and the costs associated with the manual approval process. The solution allows users to get documents signed electronically by one or more signers
Key Features Include:

Proactive Notifications
Group Sending/Signing
Templates
Group/Department Sharing
Flexible Approval Flow
Web Services Integration
Keystroke Encryption
Biometric Authentication Option
Touchpad Signing Option
How it Works
Step 1. Add Document/s
Step 2. Add Signer's email addresses
Step 3. Drag and Drop Signature Points/Fields
Step 4. Send
Once the document is sent, your signers will be notified by email that they have a document to sign. They will simply click on the link in the email, review the documents, and sign/complete where required. This signing can happen from any PC, Laptop, Tablet, or Smartphone device. Once signed, you will be notified by email that the signing process has been completed. Documents are encrypted and stored to prevent any modification of the document and signatures. These documents are stored for future reference and are available anytime.
SutiSign appends a full audit trail to documents which includes compliance information such as timestamps, ID's and IP addresses of the signers.
SutiSign is available in multiple versions: Professional, Corporate, Enterprise and Unlimited. Visit http://www.sutisign.com for more info.
Pricing starts at $15.99 per month per user.
About SutiSoft Inc.
SutiSoft Inc. is a privately held company founded by N.D. Reddy, a successful Entrepreneur with over 30 years of experience in both the Hardware and Software industry as a Founder, and CEO. The Company's leading edge enterprise/SaaS application software products range from business productivity solutions such as Expense Management, Document Control Systems, Governance, Risk and Compliance, and Enterprise Security Solutions. The company's products are developed using Java, Flex, AJAX and other cutting-edge technologies which allow SutiSoft to retain its core values which are Simple, Scalable, Secured, and Seamless. Headquartered in Los Altos, California USA, SutiSoft has offices in Northern California, India and Japan.
Additional information is available at http://www.sutisoft.com
Contact:
Tim Stainken, VP Sales
SutiSoft, Inc
4984 El Camino Real, #200
Los Altos, CA 94022
(650) 969-7884 x411
tstainken(at)sutisoft(dot)com
Contact:
Carol Slone, Public Relations
Sutisoft Inc.
4984 El Camino Real, #200
Los Altos, CA 94022
(650) 969-7884 x415
cslone(at)sutisoft(dot)com
###