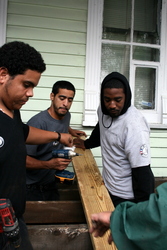 The best resource for informing and empowering our YouthBuild members is the experience of our partners, who live and breathe the reality of the training every day. Passing along that level of experience to the member is an invaluable benefit."
Buffalo, NY (PRWEB) October 7, 2010
WNY AmeriCorps, an independent non-profit organization focused on providing service opportunities for citizens, is preparing recent recruits of their ServiceCorps YouthBuild USA program to meet the challenges of their nine month service term through extensive safety and life-skills training provided by partners specializing in their respective fields, cemented by inaugural, high-impact revitalization projects designed to introduce the recruits to the City of Buffalo communities they will be serving..
"We believe strongly that all of our members should be prepared for their time serving the community," said Mark P. Lazzara, CEO of WNY AmeriCorps. "The best resource for informing and empowering our YouthBuild members is the experience of our partners, who live and breathe the reality of the training every day. Passing along that level of experience to the member is an invaluable benefit."
The training of the YouthBuild USA recruits took place at the 550 Enterprises building, provided by Sanders Construction, Inc and included trainings provided by, Back to Basics Outreach Ministries, the Lakeview Shock Incarceration Correctional Facility, Attorney and Counselor at Law Robert Ross Fogg, and Tamara McMillan of McMillan Empowerment Enterprise. The CPR and emergency safety training was provided by Rural/Metro Medical Services (http://ruralmetrowny.com), who partnered with WNY AmeriCorps to encourage more people to prepare themselves for disaster and help create a larger base of safety prepared urban youth in the City of Buffalo through member training.
The training prepared the YouthBuild USA recruits for their inaugural community service project on Friday, September 24, 2010, clearing debris from the street and vacant lots, and mowing overgrown grass to prepare Pershing Avenue in the City of Buffalo for the "Keep Our Neighbors in Good and Green Homes" project the following week.
On Thursday, September 30, 2010, the new YouthBuild USA recruits continued the revitalization of Buffalo neighborhoods through a "Good and Green Homes" project with The Home Depot Foundation and WNY AmeriCorps. Along-side Team Depot volunteers, WNY AmeriCorps members and staff, and Hands On Greater Buffalo community volunteers, the recruits rebuilt porches, painted, cleaned, landscaped, and a created a community garden on Pershing Avenue.
A video of the project can be seen on YouTube.
This Team Depot / WNY AmeriCorps project is a part of the Foundation's Annual "Celebration of Service" and a continuation of the partnership's "Keep Our Neighbors in Good and Green Homes" initiatives.
"Keep Our Neighbors in Good & Green Homes" is an effort powered by WNY AmeriCorps and The Home Depot Foundation that began in 2009 and has since invested more than $100k of funding from the Home Depot Foundation, renovating over 48 homes across the West, East, and South side communities of the City of Buffalo. WNY AmeriCorps and The Home Depot Foundation have worked together to revitalize communities since 2006, improving the living conditions and energy efficiency of multiple school buildings, community centers, and homes.
YouthBuild is a youth and community development program that simultaneously addresses core issues facing low-income communities: housing, education, employment, crime prevention, and leadership development. In YouthBuild programs, low-income young people ages 16-24 work toward their GEDs or high school diplomas, learn job skills and serve their communities by building affordable housing, and transform their own lives and roles in society. For more information, visit http://www.YouthBuild.org.
The Home Depot Foundation is dedicated to helping families thrive by creating healthy, affordable homes as the cornerstone of sustainable communities. Our goal is for all families to have the opportunity to live in healthy, efficient homes they can afford over the long-term; to have access to safe, vibrant parks and greenspaces; and to receive the economic, social and environmental benefits of living in a sustainable community. Since its formation, The Home Depot Foundation has granted $190 million to nonprofit organizations and supported the development of more than 95,000 homes, planted more than 1.2 million trees, and built or refurbished more than 1875 playgrounds, parks and greenspaces. For more information, visit http://www.homedepotfoundation.org and follow us on Twitter @homedepotfdn.
WNY AmeriCorps, an independent non-profit organization, creates opportunities for all individuals to serve, challenging citizens to turn their ideals into action and their passion into positive change. Through transformational service and civic responsibility, WNY AmeriCorps is designing a sustainable future for our nation's communities. WNY AmeriCorps ServiceCorps' YouthBuild USA program was made possible through funding from the US Department of Labor and the leadership and curriculum of YouthBuild USA. For more information, visit WNYAmeriCorps.org.
###