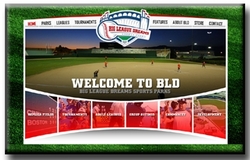 How a professional baseball field owner/operator like Big League Dreams could construct cement curbs inside their baseball fields is beyond belief - Gregory G. Brown
Irvine, CA (PRWEB) October 8, 2010
On June 12, 2010 Brian Hutchison's life changed forever. While playing is a softball tournament in Chino Hills, CA, he suffered a catastrophic brain injury, multiple skull fractures, eye damage and other debilitating injuries. Hutchinson was air lifted from the park to the Arrowhead Regional Medical Center and "spent the beginning of a new life as he would know it in a hospital bed" says his lawyer, Irvine trial attorney Gregory G. Brown.
The venue was Yankee Stadium -- no, not that one -- the replica stadium operated by Big League Dreams USA, LLC. Big League operates similar replica stadium parks throughout the Western United States. Fairfield Ranch Maintenance Association, Inc. owns the land, located in Chino Hills. In a unique design attribute, the baseball field where Hutchinson was playing short stop had a cement curb (approximately 6 inches by 6 inches) built INSIDE the park along the 3rd base foul territory fence. Hutchison's attorneys claim this is a dangerous condition and that there should be no cement curb within the field of play. They also alleged negligence against the owner and operator of the baseball park. While going for a fly ball in between the left field and the infield, Hutchison caught the ball, but hit his head on the concrete curb when he landed.
The player sustained what appear to be permanent brain injuries and right lateral cranial VI palsy. During his second hospital stay at Western Medical Center, Santa Ana, he was treated for Bilateral Frontal Lobe Contusion [trauma], Subdural Hematoma, Right Temporal Bone Fracture [skull], Hyponatremia, and Right Lateral Cranial VI Palsy [eye injury & double vision]. He spent approximately one week at Western Medical Center.
A lawsuit was filed in the Orange County Superior Court on October 6, 2010, Case No. 30-2010 00414677, by the Orange County Personal Injury Firm of Brown & Charbonneau, LLP. Plaintiffs attorneys are seeking personal injury damages in excess of $10,000,000 for the life altering injuries sustained by the 24 year old man. Attorney Gregory G. Brown believes this accident could have been easily avoided; "all they had to do was construct the fencing foundation below grade so that no concrete was exposed inside the fence. I have never ever seen a baseball park with an exposed concrete curb within the field of play."
A team of doctors are currently treating Hutchison's many injuries sustained. Immediately following the head trauma, Hutchison had to re-teach himself some the basics in life, such as walking. He treats every day as an opportunity to improve and work on his recovery. Mr. Brown says, "Brian's commitment and perseverance has been amazing! He is doing everything he can to work on improving his brain function and re-educate his body. He has a great attitude in light of what he has gone through." Prior the the injuries, Hutchison was preparing for his transition from a semi-pro baseball player to college student.
Gregory G. Brown is a renowned Southern California trial attorney. He is a Certified Trial Specialist and an award winning litigator. He is a partner in the Orange County Personal Injury and Trial Law Firm of Brown & Charbonneau, LLP. Mr. Brown has been selected for inclusion by Super Lawyers for the last three years in a row (representing the top 5% of California Attorneys). He has the highest peer review rating of "AV 5.0/5.0" by Martindale Hubbell, representing the highest rating in legal ability and ethical standards. He also has received the coveted "Superb 10.0/10.0 AVVO rating". Brown & Charbonneau, LLP is well known for being hard hitting, aggressive litigators and trial specialists. They have practice groups in personal injury, business & commercial litigation, real estate and family law. The firm handles matters of catastrophic injury and other litigation matters throughout California.
For more information, visit http://www.bc-llp.com
# # #