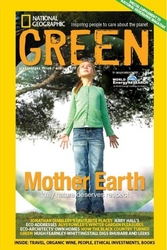 The green agenda is a challenge for the whole of society and the awards will reflect that increasingly important fact.
Auckland, New Zealand (Vocus) October 7, 2010 –
In its ongoing efforts to help fund environmentally aware projects worldwide, World Energy Research (WER) is collaborating with the National Geographic Green magazine to help raise awareness of sustainability issues. In addition, WER is sponsoring an award for new green energy technology in the inaugural People and Environment (PEA) awards.
This latest partnership is part of the overall goal of WER to help both the environment and the communities in which its projects are taking place. By acknowledging individuals and companies that are developing "green technology" , WER aims to increase the world's awareness of the vital importance of the transition to clean energy for our future.
The PEA awards ceremony will take place on Wednesday, March 2, 2011 at the stunning National Geographic Store in London's Regent Street, England.
The awards will recognize both individuals and organizations which have demonstrated their commitment to finding solutions to sustainability challenges. Leading environmentalist and chair of the PEA award judges, Tony Jupiter comments: "These awards will set out to recognize achievement, leadership and innovation across a wide range of sectors and interests. The green agenda is a challenge for the whole of society and the awards will reflect that increasingly important fact."
WER is sponsoring the Best Energy Saving Idea category. The award is being issued to the individual who has developed the best carbon-saving idea of the year. Candidates are eligible for nomination whether the project is currently functioning, or still in the developmental stage.
About World Energy Holdings
World Energy Holdings is the parent company of World Energy Research, World Energy Water Power Gas, World Energy Index, an exclusive alternative energy stock index, World Energy Bank, World Energy Capital OFC, World Carbon Trading, World Trade Source, a new online trading platform, World Energy Capital OFC, an offshore banking company, and World Legal Source, a global investment and asset protection legal service.
About World Energy Media
World Energy Media is a subsidiary of World Energy Research (a World Energy Holdings Company) and has been created to fill a much needed void in the energy news sector. This media outlet is devoted to nothing but energy news and brings all of the latest news about energy under one umbrella. WEM will cover everything from the latest legislation, energy investments, reviews, and new products.
Contact:
World Headquarters
Level 20 ASB Bank Centre
135 Albert Street
Auckland, 1010, New Zealand
Phone: 64+93597492
Fax: 64-93597495
Email: info(at)worldenergyresearch(dot)com
###