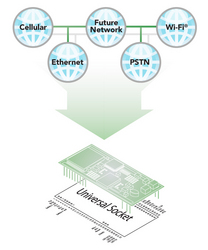 Multi-Tech is thrilled to offer one of the only embedded device networking solutions that is pre-approved and ready for customers to integrate
Saint Paul, MN (Vocus) October 7, 2010
Multi-Tech Systems, a global manufacturer of device networking products, announced today that its SocketModem line of embedded cellular modems for machine-to-machine communications is now approved by Verizon Wireless Network as a complete, standalone modem. This means companies can incorporate this ready-to-integrate communications device without pursuing additional carrier certifications on their own, significantly reducing time to market and the costs associated with this process.
Customers considering a module for their communications solution can incur certification costs up to $100,000 and need anywhere from 6-12 months to complete the process. In contrast, Multi-Tech's SocketModem is already approved, eliminating these costs and delays.
"Multi-Tech is thrilled to offer one of the only embedded device networking solutions that is pre-approved and ready for customers to integrate," said Jim Cairns, Multi-Tech's Vice President of Product Management and Business Development. "It provides a cost-effective avenue for our customers to quickly leverage the strong Verizon network and the option to now connect to any of the prevailing cellular network technologies without additional certification testing."
Multi-Tech's pre-approved and ready-to-integrate embedded device networking solutions with Universal Socket connectivity and Universal IP™ quickly provide cellular, Ethernet, PSTN or Wi-Fi network access with interchangeable communications devices. Multi-Tech's embedded solutions require minimal engineering effort to add communication capability to existing and new products. Once deployed, the initial design and host application can quickly adjust to new technologies, essentially future-proofing any solution.
Customers are encouraged to contact their Multi-Tech sales representative to receive a developers guide that discusses the regulatory and carrier requirements for complete solutions.
About Multi-Tech Systems
Multi-Tech® Systems is a global manufacturer of award-winning device and embedded modems and Unified Communications products that connect data over cellular networks from anywhere in the world. As a leader in the industry for 40 years, Multi-Tech's reputation for reliability and innovative design is evident with 80+ patents, 20+ million devices being used by thousands of customers worldwide and certifications from more than 30 carriers and over 80 countries. In 2010, Multi-Tech launched a comprehensive services program, as well as a Cellular Development Platform and Developer Resources website: http://www.multitech.net. Multi-Tech is certified by the WBENC as a Women's Business Enterprise and by C-TPAT (Customs–Trade Partnership Against Terrorism). Visit http://www.multitech.com. Follow Multi-Tech on Twitter: twitter.com/MultiTechSys.
###