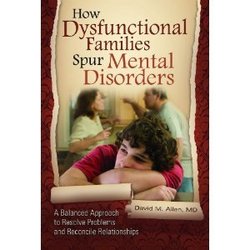 Memphis, TN (Vocus) October 12, 2010
Millions of Americans are being told by mental health professionals that they have "bipolar II disorder" or "Adult ADHD" and need powerful and potentially toxic medications, when the real problem is that their family life is a war zone. Others with real mental illnesses that do need medications are being negatively influenced by vociferous anti-psychiatry zealots who think that all psychiatric medications are the work of the devil.
In How Family Dysfunction Spurs Mental Disorders: A Balanced Approach To Resolve Problems And Reconcile Relationships, published by Praeger, Professor of Psychiatry David M. Allen M.D. provides the first book by a psychiatric insider that explains exactly how and why relationship problems have been falsely turned into mental illnesses. This book tells readers who are confused by conflicting advice everything they need to know in order to step up and save their families by finding the right kind of help in repairing their important relationships.
While other books by dissident psychiatrists merely decry the demise of psychotherapy, Dr. Allen writes specifically about the nature of the family dysfunction that is powerful enough to lead to self-destructive and self-defeating behavior as well as anxiety and depression in family members that are not due to true brain disorders.
Dr. Allen tackles and elucidates such varied and controversial topics as the field's history of blaming real brain disorders like autism and schizophrenia on family dysfunction, problematic parenting trends in today's western culture, the real prevalence of child abuse and neglect, the pernicious influence of pharmaceutical companies and managed care insurance on the practice of psychiatry and psychology, current thinking on the age-old heredity versus environment debate, psychiatric diagnoses, and the cacophony of competing schools of psychotherapy and behavior change.
ABOUT THE AUTHOR
David M. Allen, M.D. is a Professor of Psychiatry and the former director of psychiatric residency training at the University of Tennessee Health Science Center in Memphis, a position he held for 16 years. Prior to that he was in private practice in psychiatry in Southern California for 13 years during the advent of managed care health insurance. Additionally, he has done research into personality disorders and is the author of three books for psychotherapists.
HOW FAMILY DYSFUNCTION SPURS MENTAL DISORDERS: A Balanced Approach To Resolve Problems And Reconcile Relationships

Praeger, an Imprint of ABC-CLIO
Price: $44.95
Pub Date: August, 2010
http://davidmallenmd.blogspot.com/
ISBN 978-0-313-39265-8
Pages: 281, Hardcover, 6 1/8 x 9 ¼
http://www.praeger.com/catalog/A3273C.aspx
###