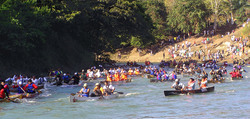 You'll leave here with a new outlook. A challenge like this is like refreshment for the soul.
Cayo District, Belize (PRWEB) October 11, 2010
In search of a challenge and a break from the daily grind, three American ex-pats in Belize decided to take a shot at the longest three person canoe race in the world, La Ruta Maya Belize River Challenge. With no canoe racing experience and no training they completed a 4 day, 170 mile race down two rivers and across the width of Belize. Out of that experience a business idea formed and today La Ruta Maya Outfitters is gearing up to bring teams into Belize to take part in the 14th annual race in March.
The Outfitters say they are not necassarily looking for canoe racing teams, they are looking for people who want to breathe some fresh air into their lives. Outfitters founder, Jim Britt, says, "You'll leave here with a new outlook. A challenge like this is like refreshment for the soul." Britt spent 12 years in the US Navy, was a deep sea diver and is familiar with a challenge. "People come off the river the 1st day (49 miles) saying they didn't think they could finish the day but they did it. Getting back in that canoe the next day and doing it again, that's what we call a 'gut check'. Most people will go their whole lives and not do something this hard. This is highly beneficial on a personal level and a great team building exercise. Everyone walks away from this with new insight into what they are capable of. It's like doing a marathon only your friends help you finish!"
Britt says choosing your teammates is key, "Better to pick two friends that are naturally encouraging and can handle adversity than find two people who know how to paddle. This is less about canoeing and more about adventure and fun. It is, however, four days racing a canoe so being moderately fit with some experience in a canoe is helpful."
The La Ruta Maya Outfitters equip teams for the race as well as showing them the sights of Belize. Their all inclusive package has participants in Belize for 10 days touring Mayan Ruins, exploring caves, relaxing on the beach and paddling in the longest 3 person canoe race in the world. They also accommodate non-paddling guests who participate in all aspects of the trip, except being in the canoe. The logistics of visitors to Belize outfitting themselves for this event would be difficult but the Outfitters make it easy. "Just show up," they say, "we take care of everything." "Everything" appears to be the correct term. All food, lodging, transport in Belize, canoes, even custom team shirts, commemorative paddles and a hardcover, customized photo book are included. Don't forget the free local rum as well. "Our support crew includes a chef, bartenders and three masseuses. That's how we roll!" laughs the former Navy Diver.
What's the cost for this "Adventure of a Lifetime"? Ten days all inclusive in Belize costs paddlers $2,000 per person and non-paddlers pay $1,400. Airfare is not included and averages $550 from most places in North America.
For more information on La Ruta Maya Outfitters and the La Ruta Maya Belize River Challenge visit their website, http://www.LaRutaMayaOutfitters.com.
###