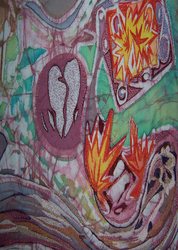 "Over the past few years I have worked on art as a type of therapy for myself, dealing with all the issues of mental illness," said artist Seelenbinder-Apke
Fairfield, OH (PRWEB) October 7, 2010
The Clifton Cultural Arts Center (CCAC) will once again host a riveting, and emotional, exhibit. The combination of two artists collection and the collected works from the Mental Health Arts Collaborative, makes this one of the most informative and personal exhibits to be displayed.
A Mother's Journey, by Maxine Seelenbinder-Apke from Fairfield, OH, features a combination of mediums and materials, taking the viewer on a 10-year journey through loneliness, heartbreak, rejection, fear and faith. Through the use of photography, 2-D and 3-D objects, fiber art and homemade paper, the symbolism of how a mother responds to, and accepts, the diagnosis of a child with mental illness will inspire and awe the viewer.
Artist Seelenbinder-Apke is hoping to make this a traveling art show that will touch lives across the country, not just in the Cincinnati area. "Displaying my art allows me to share with so many parents the pain and aloneness that I felt. Realizing that it is not just about the person who has the mental illness—it is about their whole circle of family, friends and neighbors."
As an art teacher for many years, Seelenbinder-Apke has mastered the techniques so prevalent in her artwork, taking each of the pieces to a new level of communication. Her speaking skills can be utilized for meetings, informal gatherings or community events.
"Over the past few years I have worked on art as a type of therapy for myself, dealing with all the issues of mental illness. As a mother, I felt by putting my life in the light it would bring focus to this topic of mental illness," said Maxine Seelenbinder-Apke. "It is my goal to let others know they are not alone."
An Artist's Journey with Mental Illness features the art work of the late Joanna Barnett, lovingly displayed by her cousin. The collection contains 40 self-portraits in 40 days and provides a gut-wrenching first-person narrative of one woman's battle before ultimately taking her own life. The continuation of her art gives credence to the fact that every life matters.
The final collection of art pieces is a collaboration of artists all portraying the message of Mental Illness in hopes of educating the public to this devastating sickness. Often called the silent sickness because people hesitate to speak, question or acknowledge the existence of it within a family or community.
Mental illness affects as much as 20% of the general population in one year, yet according to Seelenbinder-Apke, it is not a "casserole" disease. Rarely do people call or stop by with a casserole to see how the affected person is feeling. Mental illness has a stigma attached to it and, unfortunately, as many as 15% of those affected receive no treatment at all. *(Based on information from the Surgeon Generals Report on Mental Illness)
There are numerous ways of combating mental illness in our society, with the key being to acknowledging the illness and seeking professional help. It is the hope of the CCAC and NAMI, the National Alliance on Mental Illness, a national support group for families coping with mental illness, that the message is loud and clear: There is hope and help for families affected by mental illness.
The exhibit runs from Oct. 7 to Oct. 30, 2010 and is open on Mondays from 10 a.m. to 5 p.m.; Wednesdays from noon to 8 p.m.; and Saturdays from 9 a.m. to noon. Other times can be arranged by appointment. The opening reception is on October 7 from 5 p.m. to 8 p.m. and an Artists' Talk is scheduled for Oct. 25 from 6 p.m. to 8 p.m.
For more information visit the web site at http://www.cliftonculturalarts.org
###