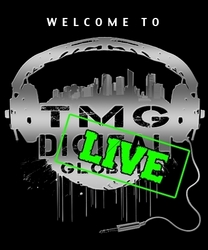 We are future oriented here at TMG Digital Global
Los Angeles, CA (Vocus) October 7, 2010
Newcomer to the industry TMG DIGITAL GLOBAL adds another pillar to its digital media foundation by launching its entertainment media portal TMG LIVE. Powered by entertainment and social networking site BigLive.com, TMG LIVE's premiere broadcast features a sold out performance of Singer/Songwriter Teedra Moses from Jamie Foxx's Sirius Satellite Radio show FOXXHOLE LIVE inside the CONGA ROOM at LA Live.
Since the release of her debut album Complex Simplicity in 2004 (which reached #20 on Billboard's Top R&B/Hip-Hop album charts), loyal fans have been eagerly following Teedra Moses' every move, from her songwriting stints for such notable music icons as Macy Gray, Mary J. Blige, Raphael Saadiq, and Christina Milian, to her sold out club dates across the country. TMG Live brings fans exclusive access to Teedra Moses before, during and after her performance from Jamie Foxx's popular night spot, Foxxhole Live.
TMG LIVE's premiere broadcast, OCT 15th 2010 at 8:00pm PST, will allow e-concert goers to interact with Teedra and one another using a new social networking platform as if they are actually in the Conga Room wearing treasured ALL ACCESS laminates. "Imagine watching your favorite performer with your friends and being able to interact as if you were all sitting in the front row of the concert. At the same time, our advertisers can interact with the audience as if they were passing out samples at the same show," said Christina Nelson, Vice President Of Promotions and Marketing for TMG LIVE. The event will also include intimate interviews with the artist, musicians and other VIPs by TMG Live correspondent and noted radio personality Vanessa James (The Voice of Miami).
TMG Live powered by Big Live is a new online multimedia company bringing you the latest in entertainment news, live streaming events, music, and never before seen footage of the hottest celebrities. TMG's staff has over 40 years of combined experience in the entertainment business with major content providers such as Capitol Records, Island Def Jam, New Line Cinema, Virgin Records, Sony Pictures, and Universal Pictures as well as Universal Music Group. "We are future oriented here at TMG Digital Global," says Eric Purvis, TMG's Founder and CEO, " and we believe our partnership with Big Live puts TMG in the position to be at the forefront of the new wave of technology driven entertainment platforms that savvy consumers are demanding. Today's consumer wants their content on their terms. TMG Live powered by Big Live is poised to deliver just that."
Winner of the Pepsi/SoundCTRL Flash Forward award for the most innovative business in music and technology at the 2010 South By South West Music and Technology Festival, Big Live offers a live streaming platform exceeding that of its competitors. Big Live's management team consists of well respected leaders in the technology sector with a proven track record of success in running such industry leading companies as Proxim,Inc., US Robotics, Inc., Vodafone, and PacBell/SBC. Helmed by Jonathan Zakin, one of the "most influential top 25 executives in the high technology industry," The Big Live serves as TMG Live's back-end partner, enabling TMG Live.com end users to connect via social networking sites like Facebook or Twitter and engage in live chatting while viewing live performances from their favorite artists.
"TMG Live powered by Big Live has the potential of FUSE or MTV online. With the combination of TMG's original programming and the unique on line viewing experience of Big Live's streaming and social network platform, we believe new standards will be set for online broadcasting," said Jonathan Zakin, CEO of The Big Live.
TMG Live's lineup of events include upcoming coverage of the FALL INDIE FEST from Grand Prairie, Texas and Dynamite Fury Presents Xtreme Lucha Libre Live at the LA SPORTS ARENA.
###