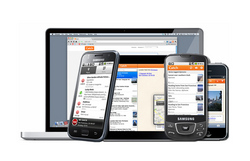 "We are convinced that capturing and retaining more of your life experience not only can improve productivity and performance, but it can make life richer."
San Francisco, CA (PRWEB) October 8, 2010 —
Catch.com, formerly known as Snaptic.com, today announced its new company name, website ( https://catch.com ), and new mobile apps, "Catch Notes", available in the Android Market and Apple App Store. 
"With Catch.com, our name matches our mission to help people effortlessly catch and organize the ideas, notes, places, images and information that matters most, on their phone and on the web," said Steve Brown, CEO of Catch.com. "We are convinced that capturing and retaining more of your life experience not only can improve productivity and performance, but it can make life richer."
The new mobile applications are the latest in a series of mobile offerings that give the 5 million active Catch users on Android complete on-the-go access to their notes, images, geotags, and other captured data. The new Catch apps join the newly released Catch.com website that uses mobile geolocation to help sort and find information based on locations sent from a mobile device. 
Catch is a leading developer on Android that makes use of the Android-specific features that allow apps to power other apps.  For example, the Catch Compass 2.0 app has been updated with a new note finder capability that uses Catch Notes to track and navigate to nearby notes and saved locations. 
Developers can build on the Catch technology through an open API and open source examples that enable a wide range of personal data capture applications. Examples include those featured in the recent Health 2.0 and Move Your App developer challenges, where Catch called on developers to create apps that inspire people to track and improve their physical activity.
New Catch.com Features
-View and map location data attached to notes sent from your mobile device
-Sort notes by location and find notes near a location
-Create, sort, and manage notes with Twitter-like hashtags
New Catch Notes Mobile Features
-Available on Android, iPhone, and iPad
-Free, secure wireless syncing to Catch.com over a 256-bit SSL encryption
-Passcode protection
-Complete offline access
-Share notes by email, Tweeter, or Facebook
-Map addresses of locations sent from your Android, iPhone, and iPad device and see notes near that location on the web
-New user interface and sorting options
New Compass on Android Features
-Note finder - Make a note of locations and navigate to them later
-Save your favorite locations to find your way back: a nice restaurant you want to go back to, your car in a busy street
-Find geotagged notes more easily, an arrow and approximate distance displayed to saved locations
Availability
Catch Notes is available for free in the Android Market and Apple App Store. Compass is available for free in the Android Market. It's free to sign up for a Catch.com account.
About Catch.com
Catch.com, formerly Snaptic.com, develops mobile and web applications that make it simple to capture, organize, and share information on the go and keep it synchronized in the cloud. Catch.com is a leader in note-taking and geo-tagging applications for Android and iOS devices. Numerous leading smartphone applications integrate with Catch.com. For more information, please visit http://www.catch.com.
Catch.com and Catch Notes are trademarks of Catch.com, Inc.
###