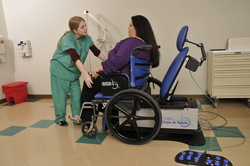 A patient can be taken from a wheelchair to an examination table in less than thirty seconds.
Wendell, NC (PRWEB) October 13, 2010
Martin Innovations is proud to announce the commercial availability of their proprietary "Chair-A-Table" safe patient handling system. The cutting edge technology employed by Martin Innovations' Chair-A-Table represents a true Zero-Lift® patient transfer system. As you can observe in the video provided, the wheelchair docks directly with the exam table. As the patient is lifted, the wheelchair sides are removed. The patient can then be examined without ever leaving the wheelchair seat.
This technology represents a leap forward in Safe Patient Handling as it not only enhances the safety of the patient, but also the healthcare worker. Healthcare workers have the highest injury incident rate according to the US Bureau of Labor and Statistics (2008), and many of these injuries occur during patient transfer.
Over the years, many organizations have sought new technology that addresses the transfer of patients from wheelchair to examination table. The Department of Justice and the Department of Health & Human Services recently released a joint report on medical care for individuals with mobility disabilities. The report stresses that examination of a dependent patient while in a wheelchair does not meet the standard of "equal medical services". Martin Innovations has answered that call with technology that eliminates the manual aspect of the lift or transfer from wheelchair to exam table.
The Martin Chair-A-Table is manufactured by skilled workers in the United States. It has the industry's highest weight capacity at 1,000 lbs, and carries a full warranty of 5 years. The Chair-A-Table is also perfect for everyday use as an exam table, with 8 points of power articulation including power lift, power backrest, power footrest, and power trendelenburg. View more detailed information on the Martin Innovations Zero-Lift Patient Transfer System.
Anne Hudson, Founder of Work Injured Nurses' Group, reviewed the Chair-A-Table and claimed, "Since my back injury, I've found that thousands of other nurses have also lost their job to injuries suffered from lifting patients. The Chair-A-Table can prevent such injuries." The Martin Chair-A-Table provides for a smooth and dignified patient transfer with no additional healthcare staff required to assist. Remaining in the comfort of the wheelchair seat, patients are quickly and safely transferred to the exam table without a sling, hoist or pivot. David McCullough, a wheelchair dependent patient, said, "The Chair-A-Table is a miracle worker."
The Martin Chair-A-Table uses proprietary patented technology certified or approved for FDA 510k, UL 60601-1, CE, and ANSI-RESNA standards.
Martin Innovations is a Veteran-Owned Small Business based in North Carolina, and has been awarded two contracts with the U.S. Veteran's Administration for use within government and military facilities worldwide. Martin Innovations sells through select distribution partners throughout the United States and through international agreements globally. For questions, comments, to schedule a demonstration, or to receive information on qualifying as a distributor, please contact us.
###