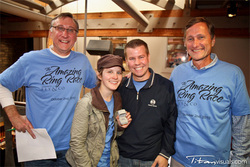 "This was an amazing event supported by the fact that we had nearly 500 people running around the Lincoln Park area chasing their dream of winning an ArtCarved ring" adds Tom Tanner, Vice President of Marketing for Frederick Goldman, Inc., parent company
Chicago (PRWEB) October 12, 2010
Heavy rains and high winds didn't deter nearly 500 people from participating in the Amazing Ring Race - Chicago, sponsored by local jewelers Fey & Company.
Fey & Company partnered with ArtCarved Bridal to produce this SCVNGR (pronounced scavenger) event in the Lincoln Park section of Chicago. The live scavenger-hunt event is a location-based game designed for consumers using mobile technology to find and answer various clues within a few hours time. The grand prize was a $15,000 ArtCarved 2010 Limited Edition Engagement ring.
In this "green" event, participants are only allowed to walk, ride bikes or use skateboards (no automobiles or motorcycles are allowed). Reusable water bottles were provided and recycle bins collected any paper, plastic and/or cardboard used during the event.
Minor setbacks, such as gusty winds, heavy rains and broken bicycle chains weren't enough to divert Alison and Ryan from their mission of winning the grand prize of the $15,000 ArtCarved diamond ring. Other prizes included a $500 and $250 gift certificate redeemable at any of the area's Fey & Company jewelry stores.
"We were pleased with the turnout and the enthusiasm of all participants despite the challenging weather conditions," says Ed Fey, Co-Owner of Fey & Company. "We would like to thank everyone who participated and congratulate our winners."
"This was an amazing event supported by the fact that we had nearly 500 people running around the Lincoln Park area chasing their dream of winning an ArtCarved ring. Working with professional partners, such as Fey & Company and SCVNGR makes it even easier. They are both class organizations and we look forward to running another event with them in the Chicago area next year," adds Tom Tanner, Vice President of Marketing for Frederick Goldman, Inc., parent company that manages the ArtCarved Bridal brand.
ArtCarved Bridal partners with select jewelry retailers throughout the country to produce consumer-facing SCVNGR events during the year to generate brand awareness and develop new business opportunities for both ArtCarved Bridal and the local jewelry retailer.
For additional information contact Tom Tanner, Vice President of Marketing at ttanner(at)fgoldman(dot)com or 212-807-2120.
###