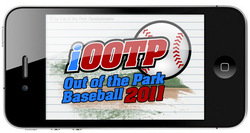 It's been interesting to watch the dynamics of OOTP change on the iPhone. The challenges of coding for mobile devices have made us rethink the game and focus on the bare essentials. It's great to watch iOOTP take shape! - Lead Developer Markus Heinsohn
West Chester, PA (PRWEB) October 14, 2010
With the Major League playoffs underway, baseball is on the minds of many fans. It's on the minds of the folks at Out of the Park Developments as well. Their flagship simulation game, Out of the Park Baseball 11 ("OOTP 11"), has met with very positive reviews, and the company has decided to expand the product to a new audience as well: iPhone users. The company is announcing that development is underway for iOOTP, an iPhone version of Out of the Park Baseball.
The simulation experts have hired a new developer, Sebastian Palkowski, to handle development of iOOTP. "As a long-time fan of the series myself, I'm really looking forward to bringing OOTP to a new platform," said Palkowski, "and the development team at OOTP is fantastic to work with! iOOTP is going to be a blast for existing OOTP users, but I bet it will be a lot of fun for more casual fans too."
Development of iOOTP is already well underway, with an anticipated release in Spring 2011. Lead developer Markus Heinsohn commented, "It's been interesting to watch the dynamics of OOTP change on the iPhone. The challenges of coding for mobile devices have made us rethink the game and focus on the bare essentials. It's great to watch iOOTP take shape! I think our customers will find it a really fun game."
The OOTP series, in which you assume the role of the general manager of a baseball franchise, has captured the hearts of fantasy baseballers for over a decade now. With its unparalleled feature set, flexibility, and statistical realism, OOTP 11 delivers what is missing from other baseball sims, console games, and fantasy baseball leagues - a truly immersive baseball experience.
OOTP 11 is available for Windows, Mac, and Linux for just $39.99 (customers in the European Union pay €39.99). OOTP 11 can be downloaded directly from the OOTP Developments web site. Download links, links to OOTP's web stores, and further information can be found on the OOTP 11 web site.
About Out of the Park Developments
Out of the Park Developments is the developer of the award-winning OOTP baseball management series, and also develops Title Bout Championship Boxing. OOTP Developments was founded by Markus Heinsohn and Andreas Raht in 1999, and their games have met with consistent critical acclaim, including winning Metacritic's coveted "Game of the Year" in 2007. For more information on OOTP, please visit the official web site, follow us on Twitter, or on Facebook.
###