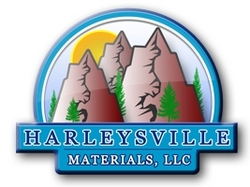 Harleysville Materials integrates perfectly with our existing capabilities and allows us to leverage our current trucking and distribution infrastructure to provide another high-quality service to the Tri-State area
Harleysville, PA (PRWEB) October 11, 2010
The Mount Group, in partnership with Carpenter Brothers Materials, LLC of Telford, PA, announced the launch of Harleysville Materials, LLC. Harleysville Materials owns and operates a full-service quarry in Montgomery County, PA along with a hot-mix asphalt plant.
The quarry, located at 460 Indian Creek Road, in Harleysville, Pennsylvania, produces two primary products: the highest quality red stone for a variety of uses including decorative, landscaping, and construction, and stone used in the construction industry. The quarry's aggregates are the highest-quality available and ready for immediate production and pick up or delivery.
"The Mount Group is extremely excited about the addition of Harleysville Materials to our group of companies as it integrates perfectly with our existing capabilities and allows us to leverage our current trucking and distribution infrastructure to provide another high-quality service to the Tri-State area", said Dave Smith, Founder and CEO of the Mount Group.
The Mount Group also owns and operates a full-service Alternative Materials and Recycling Facility located in Fairless Hills, PA at the Keystone Industrial Port Complex. A wide variety of crushed stone, aggregates and top soil is available for immediate production and pickup or delivery from that location as well.
For inquires about Harleysville Materials or any of its products including red stone, decorative stone, landscaping aggregate or dense grade aggregate, please contact Andrew Pickering at apickering(at)mountmaterials(dot)com or call 856-768-8493.
# # #