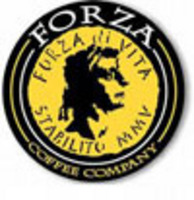 In Italy, the local espresso shops define their communities; they are gathering places. It is the goal of Forza to facilitate a strong community in our neighborhoods.
Silverdale, WA (PRWEB) October 7, 2010
Forza Coffee Company will open a new coffee shop at 8:14am on October 9th, 2010 in the area of Kitsap Mall in Silverdale, Washington.
The Forza near Kitsap Mall will be open Monday thru Friday 5am-9pm and Saturday and Sunday 6am-9pm. The store has a large meeting room for Bible studies, school groups, or small businesses to use. Additionally, a drive-thru has been added for convenience or those not able to make it into the store during their morning commute. For those looking for something other than coffee, the Silverdale Forza will also serve an assortment of beer and wine to of-age customers. The store is located at 9995 Silverdale Way NW #113 in Silverdale.
The unique time of day, 8:14am, was chosen as a remembrance and to pay honor to the four Lakewood Police officers gunned down in a Forza Coffee shop on November 29th, 2009 at that specific time.
"The law enforcement community is very close to us, and this is a way we can continue to remember the sacrifices made by those four servants," said Brad Carpenter, founder of Forza Coffee, says.
Forza, in Italian, signifies "Strength". Our logo, a Roman coin, has the phrase "Forza di Vita" or translated, "The strength of life". In Italy, the local espresso shops define their communities. Forza strives to establish ourselves as partners in the community, and make each relationship a strong (Forza) one. Forza intends to fulfill this mission by partnering, first, with schools and churches to strengthen our communities.
There are more than 23 Forza stores in the Pacific Northwest area and one in Colorado. There are currently plans to expand into Idaho, Oregon, and California. Forza has been selected as Best Coffee for the last two years by South Sound Magazine, Best Coffee House by Crown In Town, and Best Coffee by Channel 7 in Denver, Colorado.
Forza Coffee Company was founded by Brad Carpenter in 2005 and is headquartered in Federal Way, Washington. The company operates through company-owned and franchised retail stores. For more information, visit http://www.ForzaCoffeeCompany.com
Forza holds frequent franchise information seminars at its stores. If you are interested in receiving information on how to open a Forza franchise, please go to http://www.ForzaFranchise.com and register.
Be sure to find us on Facebook at http://www.facebook.com/ForzaCoffee or http://www.facebook.com/ForzaCoffeeAtSilverdale
###