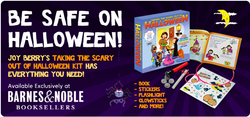 "Kids see Halloween as their holiday and don't always factor in the risks of being out after dark. It is important for parents to walk them through the potential dangers and outfit children properly to avoid them."
New York, NY (PRWEB) October 11, 2010
Halloween is an exciting time for most kids. They get to dress up in costumes, go out with friends, and come home with a bag filled with candy. Few children, or adults for that matter, consider the inherent dangers that go along with this fun-filled night.
In a study by the Michigan Transportation Board, it was found that fatal accidents involving children crossing streets increase 4.5 times on Halloween night. The reasons are obvious. More children are out walking after dark than on any other night. Kids are often wearing dark colored costumes and masks that can obscure their vision and prevent them from seeing oncoming traffic. Many children are also under the misconception that they can be safely in the street on Halloween and that cars will watch out for them. Child development expert and parenting problem solver Joy Berry says, "Kids see Halloween as their holiday and don't always factor in the risks of being out after dark. It is important for parents to walk them through the potential dangers and outfit children properly to avoid them."
Parents are not immune to the dangers of Halloween. Adults are often coming from Halloween parties where alcohol is consumed, or are on cell phones or texting while driving from location to location. This makes for a volatile mix. According to Joy Berry and her latest safety book and kit, "Taking the Scary Out of Halloween" (available at Barnes & Noble), there are several things kids and parents can do to minimize the risk and increase the fun.
For Kids:

Avoid wearing masks or costumes that make it difficult to see or breathe
Be certain costumes fit well and are not too long or bulky
Wear comfortable shoes that do not hurt or cause the child to trip and fall
Be sure to add reflectors, lights, glow bracelets and necklaces to costumes so cars can easily see kids
Young children should have an adult with them at all times and have a system in place, such as using a whistle, to make it easy to locate that adult at all times
Have a flashlight handy for dimly lit areas and to make kids more visible
Obey all the common laws for pedestrians at all times
For Adults:

Do not drink and drive, or let your child ride with someone who has been drinking
Don't text or make calls from cell phones while driving; pull over first
Take extra care when driving in residential neighborhoods or when approaching crosswalks
Be aware that kids may be wearing dark costumes and may not be watching out for cars
In addition to traffic safety, Joy Berry cautions kids to have an adult check their candy before they eat it. "While instances of razor blades and needles are extremely rare, kids can be allergic to candy (think peanuts) or be so excited they simply eat too much at once and become sick."
Taking a few extra precautions on Halloween night will ensure that everyone has fun while keeping safe. For more information on Halloween safety, etiquette and recipes, see Joy Berry's "Taking the Scary Out of Halloween" kit, available at any Barnes and Noble or at http://www.barnesandnoble.com.
The kit features:

32 page, fully illustrated, paperback book with glow-in-the-dark stickers
Halloween-themed Safety Flashlight with Clip-On Covers
Glow-stick whistle combo
Glow bracelets and necklaces
About Joy Berry Enterprises
Joy Berry Enterprises (JBE) represents the world's largest collection of books that help kids overcome issues and teach responsibility and behavior through stories, music and multimedia. The product line is the largest created by a single author and comprises the only comprehensive living skills program for children ages 1-14. Joy Berry Enterprises is a privately held company based in New York City. http://www.joyberrybooks.com.
For more information on Joy Berry Enterprises, Halloween safety, or to set up an interview with child development expert Joy Berry, contact Jeannette Montalto at 877.569.2377 x103 or email jmontalto(at)joyberryenterprises(dot)com.
# # #