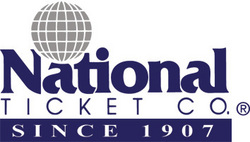 Some of our customers print hundreds and hundreds of tickets per day at their event or amusement park, so having these two new products available to help keep their printers up and running makes a lot of sense for us, and for them
Shamokin, PA (Vocus) October 8, 2010
National Ticket Company's new product offerings are a good fit for its customers who use point of sale ticket stock through thermal ticket printers. "Some of our customers print hundreds and hundreds of tickets per day at their event or amusement park, so having these two new products available to help keep their printers up and running makes a lot of sense for us, and for them," said Jason Mauser, VP of Sales & Marketing for National Ticket. Mauser added, "If a printer goes down at an amusement park, for example, while their customers are standing in line, it can leave a very bad impression. Offering thermal printer cleaning supplies and thermal printer repair service, with a very quick turnaround, ensures our customers' printers will keep working at peak demand times."
For cleaning supplies, National Ticket Company sells a variety of products online including Thermal Printer Cleaning Cards, Thermal Printer Cleaning Pens, and Thermal Printer EZ Cleaning Wipes.
For thermal printer repair and service, National Ticket Company partnered with CIS Ventures, Inc. which is well known in the industry for its high quality of work and extremely quick turnaround, especially for immediate printer exchange in the event of a printer replacement emergency. CIS Ventures offers thermal ticket printer repair services for all models of BOCA thermal ticket printers and BOCA kiosk printers, and can support repair of other types of printers as well. Mauser commented, "Our customers really like the 24/7 support and the competitive, flat rate pricing that CIS offers." CIS Ventures also offers Long-Life Rollers, which last twice as long as OEM printer rollers and cost much less. This further helps National Ticket's customers keep their printers running smoothly. Tony Voronov, President of CIS Ventures is excited to be a partner with National Ticket Company. "Combining National Ticket's experience and great reputation in the industry with the unsurpassed service and competitive pricing from CIS Ventures is a great combination, and is a huge win-win for customers," said Voronov.
About National Ticket Company
National Ticket Company, located in Shamokin, Pennsylvania is a family owned and operated business established in 1907, with clients in over 86 countries. National Ticket Company is one of the most respected names in the ticket and wristband printing business. National Ticket sells stock and custom printed tickets and wristbands for thousands of clients in numerous industries including amusement parks, water parks, live theaters, movie theaters, museums, FECs, minor league sports, high school sports, collegiate sports, professional sports, fairs and festivals, carnivals, zoos, aquariums, state fairs, local festivals, community events and more.
About CIS Ventures, Inc.
CIS Ventures, Inc. and its partners are an ISO 9001:2001 Certified repair depot located in the Atlanta suburb of Duluth and Norcross, GA. They have been in business since 1994 offering a variety of multi-vendor repair services. Their expertise includes repair of thermal printers (BOCA, Practical Automation, Datamax, etc.), LCD panel repair, and repair of POS Equipment (Receipt Printers, Kiosks, and others).
###