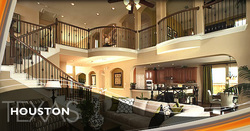 Houston, TX (PRWEB) October 8, 2010
Ashton Woods today announced that they had recently been recognized by the Greater Houston Builders Association as winners in six categories and finalists in 15 categories of residential building quality in the greater Houston area.
Established in Dallas, TX in 1989, Ashton Woods builds high-performance homes in growth communities in Houston, Dallas, Atlanta, Austin, Phoenix, Orlando, Raleigh and Tampa.
The Greater Houston Builders Association is a trade association representing all aspects of the residential building industry in the greater Houston area. The association interacts with the government, community and the general public to provide quality obtainable housing to the community it serves.
Over 100 awards were presented to Houston area builders, developers, remodelers and individuals at the 2010 Houston's Best Awards Show at the House of Blues last month. The evening showcased the accomplishments of Houston's best within the industry and highlighted their commitment and excellence to homebuilding overall. This year's Houston's Best were chosen by a panel of industry professionals from around the U.S. and Canada.
Ashton Woods took home top honors in the following categories:

Salesperson of the Year – Paul Lim
Construction Professional of the Year – Derrick Chin
Product Design - $200,000-$250,000 – Bethany in Mission Sierra
Model Home Park Design – Southern Trails
Garden Home/Patio Home – Lennox in Southern Trails
Community Entrance of the Year – Southern Trails
"The message from the Greater Houston Builders Associations Houston's Best awards is clear: The standard has gone up in the homebuilding industry," says Dan Gezella, VP Sales and Marketing for Ashton Woods. "Ashton Woods Homes continually raises the bar in the areas of customer service, quality and value. Excellence is an art accomplished by continued training, and execution, we are what we repeatedly do," explained Mr. Gezella. "Ashton Woods Homes is focused at all levels of the organization on building confident and rewarding relationships with homebuyers, delivering a high quality home, at an optimum value," he added.
For more information on Ashton Woods, visit http://www.ashtonwoods.com/houston.
About Ashton Woods Homes
One of the Great Gulf Group of Companies, Ashton Woods offers the accessibility, accountability and hands-on customer service of a local home builder with the experience, resources and financial strength of an international firm. Over the past 40 years, Ashton Woods has become known for designing versatile, energy-efficient homes priced from the $100s to the $400s. Now building in nine of Houston area's most well-located communities, the company is a Platinum Level Environments for Living™ and Energy Star® builder and is honored with the most coveted local, regional and national awards.
###