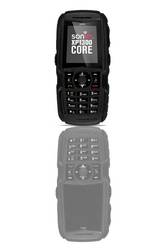 "The XP1300 CORE, our first product built on our 4th generation rugged platform, raises the toughness stakes once again," said Bob Plaschke, CEO of Sonim Technologies
San Francisco, CA (PRWEB) October 8, 2010
It was dunked… and it was dropped… and once again, Sonim has proven its phones are the toughest in the world.
Last night, at Pepcom's MobileFocus event at CTIA, some of the world's toughest tech reporters put Sonim's new XP1300 CORE phone through a new batch of hard-hitting tests.
The new XP1300 CORE phone represents a breakthrough in waterproofing technology—it's the world's first IP-68 rated GSM handset that's fully submersible in 2 meters of water. It comes equipped with a 2-inch high-resolution, a Gorilla glass® screen as well as a noise-cancelling microphone, providing workers with a tough mobile phone that endures the harshest environments.
Sonim's CEO Bob Plaschke shows his newest phone—and it's tough to the CORE : http://www.youtube.com/watch?v=ZTSOZAuyae4
ABOUT SONIM TECHNOLOGIES
Sonim Technologies (http://www.sonimtech.com) is the provider of the world's most rugged, water-submersible mobile phones designed specifically for workers in challenging outdoor and industrial environments. Sonim's XP family of rugged phones feature outstanding engineering to meet Sonim's Rugged Performance Standards (for example: impervious to water, 2 meter drops, dust and extreme temperatures). Sonim's industry-leading three year comprehensive warranty has redefined customer expectations of rugged technology. Sonim provides a suite of high-performance workforce management applications including push-to-talk and lone worker safety services on cellular networks. The company is headquartered in San Mateo, California and offers its products in over 50 countries.
# # #